Corky Gainsford of Otherwise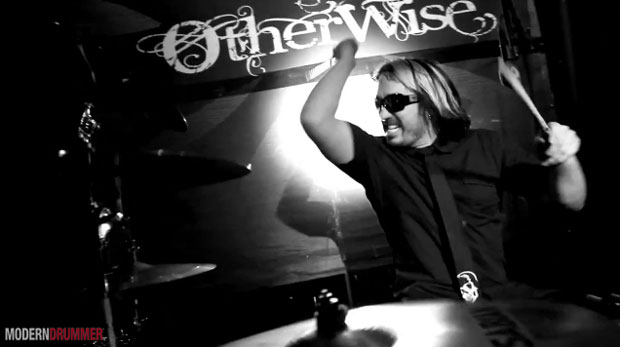 Hello, MD! I play drums for the band Otherwise, who is on Century Media Records. Our debut album, True Love Never Dies, was released in 2012 and landed at number two on Billboard's Heatseekers chart.
Our first single, "Soldiers," was the first song by an unsigned band to reach number one on satellite radio, on the Sirius Octane channel. That original demo was recorded, mixed, and produced by myself in my garage home studio. After Century Media Records officially released it, the single peaked at number nineteen on Active Rock Radio and sold over 90,000 singles—making Otherwise the top-selling debut rock act of 2012.
Our song "Full Circle" also reached number one on Sirius Octane even though it was never released as an official single. Our second official single, "I Don't Apologize," was high on the Billboard Active Rock charts as well. Advertisement
Otherwise toured with Stone Sour and Papa Roach and played on as a number of major rock festivals, including Rock On The Range, Carolina Rebellion, Welcome To Rockville, and 98 Rock Fest.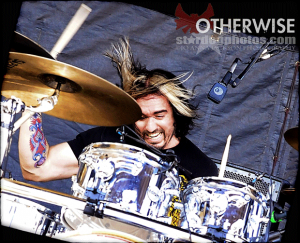 Prior to drumming with Otherwise, I was a drummer/percussionist for ten-plus years with Blue Man Group. I performed primarily in their Las Vegas production, but I also did a number of Blue Man Group special appearances, including touring the United States and Canada on BMG's Complex Rock Tour, playing lead drumkit on their DVD, Complex Live, as well as performing on several TV shows, including The Tonight Show, The Latin Grammy Awards, and Last Call with Carson Daly.
Prior to my job with Blue Man Group, I studied music theory and audio recording at Stanford University. In addition to my studies, I worked as director of the Stanford concert network, promoting and producing many concerts on the Stanford campus, including Beck, Ben Harper, Cake, David Spade, Violent Femmes, Brian Setzer Orchestra, and more.
In high school and middle school, I took drum lessons from Steve Smith at the legendary Seattle Drum School, focusing primarily on stick technique and limb independence. Many of those lessons have been incorporated into my drumming style today, as I constantly strive to strike a balance between simplistic and interesting elements in my drum parts. Advertisement
Thank you to my endorsement companies, ddrum, Sabian, and Vic Firth.
Cheers, Corky.
For more on Corky Gainsford, visit www.facebook.com/otherwiseofficial and www.facebook.com/corkyg