Ruston Grosse of Surgeon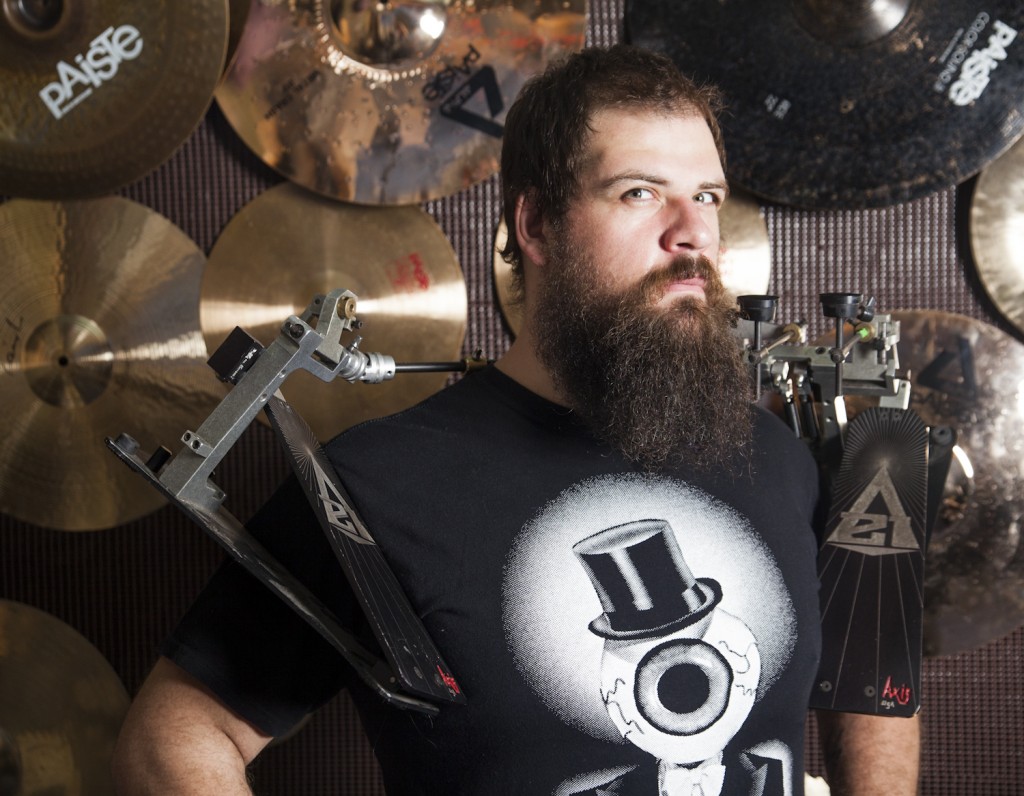 I have always been surrounded by music. My father had an amazing five-octave vocal range, and my mother was a shredding Flamenco guitarist. I guess you could say music is in my blood. I remember the exact moment that I knew I wanted to play music. I was sitting in an assembly held for the children of my grade to get them interested in joining the school band. The music teacher had invited his teacher to come and give a demonstration of different instruments. As soon as the man walked into the room, I had an implicit sense that I was seeing my Holy Guardian Angel. He proceeded to give examples of the various instruments that would be available for us to begin learning, and of course I wanted to bang on the drums! I knew from that moment on that I would be a musician.
Since then, the only things that have changed in respect to this knowledge are that I have strengthened my will to perform this great work, practiced unendingly to hone my craft, and set out to live what I know to be my true will and destiny and do it every day with overwhelming zeal and passion. I was initiated naturally into the mysteries of music, passed into a knowledge of discovering myself and my true will as a creator of music, and raised to the level of a practicing professional musician. Or what I now identify as a mugician. So here I sit writing a blog piece for Modern Drummer, a publication with which I am extremely familiar after just getting back from a thirty-two-show tour with the legendary band Master, and I can't help but know that I am heading in the right direction.
I've whored it up in many bands including Woe (Withdrawal coming out on Candlelight Records 4/23/13), Rumpelstiltskin Grinder, and Master, as well as my one-man band and many others, but I have found my home in a band called Surgeon. It's very refreshing to be part of a group that shares my drive (if not exceeds it) to create and perform the rapturous ascension that is being a mugician. We've recorded but a single album together thus far and have been met with nothing but the signs of forward motion at an accelerated rate. Our album, Chemical Reign, was recorded and co-produced by a childhood friend of mine, Kevin Antreassian, at Backroom Studios in Rockaway, New Jersey. He did an amazing job of capturing our essence and adding his own to the recording in a very harmonious and inspiring way. Advertisement
It has taken me years (and I'm convinced it's a never-ending process) to get my drumset to where it is now, but I tend to break things—constantly. I broke three new cymbals on this last tour alone, and they were all super thick and heavy! I figured out what I like gear-wise at an early age and have been trying to rock those things as hard as possible since then. Drums can be expensive, so I've taken what I could get over the years. I've always been a fan of Axis Percussion. They make some amazing stuff for all types of players. I was lucky enough to receive an endorsement from them this past year and got myself a wonderful pair of customized pedals. They're the only things that I didn't break on this past tour with Master! Thanks Karen and Chuck! Other than Axis, I've always been a huge fan of Paiste cymbals (especially Rude series, since I break everything), Pearl drums and hardware, Vater sticks (Rock, baby!), and a mix of Aquarian and Evans heads.
I'm looking forward to more tours, more albums, and continuing to grow as a mugician and effecting change within my own consciousness as well as in those, which my musick touches. See you on the road where the real magick happens! Thanks, Modern Drummer, you rock!
For more on Ruston Grosse and Surgeon, go to surgeonband.net. Photo by Sean Bolton.