Product Close-Up: RBH Monarch Drumset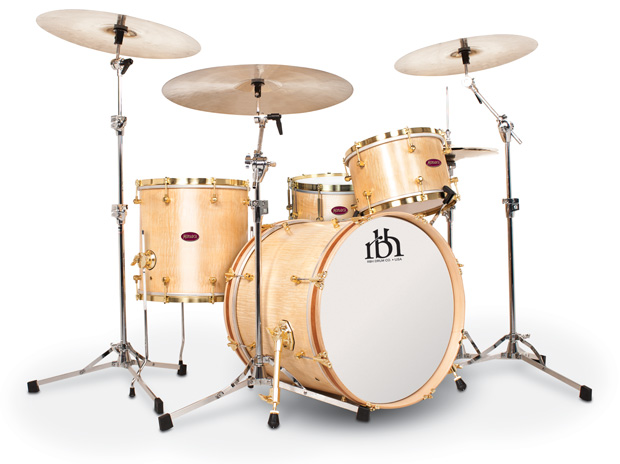 July 2013
Product Close-Up
RBH Drums
Monarch Drumset
by Michael Dawson
RBH Drums is based in Virginia Beach and is operated by Bruce Hagwood, who's a trained percussionist, retired firefighter, and master woodworker. Hagwood got into building drums in the early '90s, mainly because he couldn't afford to buy the drumset he wanted at the time. After a few years of experimentation, RBH was launched in 1998.
All RBH drums are handmade from steam-bent and ply shells formed by the company's own molds. The kit we were sent for review, which includes a 16×20 bass drum, 8×12 and 14×14 toms, and a 6×14 snare, is from the Monarch series, and it features 3-ply mahogany/poplar/mahogany shells with a curly maple veneer, brass single-flange hoops, low-mass lugs, round bearing edges, and Remo drumheads. The 8-lug snare is outfitted with a Trick throw-off and a set of twenty-strand wires. All of the drums feature solid, steam-bent reinforcement rings.
The Sound of Kings
As stated in the accompanying brochure, "Although they are based on the drums of the 1930s, '40s, and '50s, Monarch drums are much more than merely vintage replicas." The classic part of the formula is the mahogany/poplar/mahogany shell, which can be found in many brands' kits from the middle part of the twentieth century. Unlike with many of those vintage drums, though, RBH is able to craft a much more consistent shell, using only the highest-quality materials and much more exacting machinery. The result is a flawlessly made drum that produces a deep, dark, warm, and punchy tone with a nearly limitless tuning range. Whereas most older drums have one or two sweet spots, the Monarchs sounded full, open, and highly expressive at any tuning. Advertisement

Click here to listen (Right click and 'Save as' to save)
For more on the RBH Monarch drumset, check out the complete review in the July 2013 issue of Modern Drummer.
http://youtu.be/QOnxmo26eiU
[PCUStat]