Product Close-Up: Black Widow Drum Web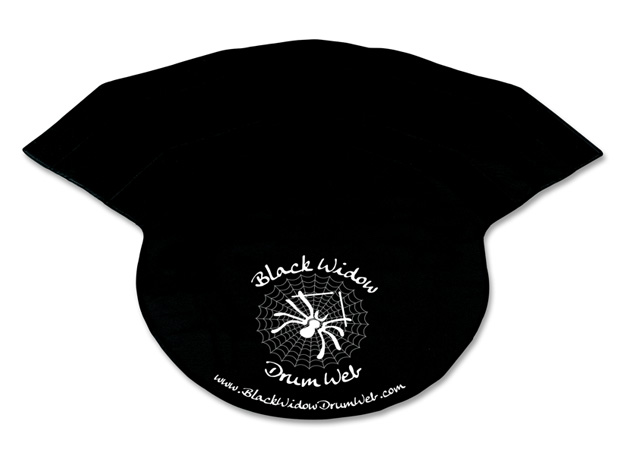 July 2013
Product Close-Up
Black Widow
Drum Web
by Miguel Monroy
I had just finished installing a beautiful .75″ solid hickory hardwood floor on the stage for my church and was tasked with setting up a drumset on it so we could start to make some noise. I placed my old rug down and assembled a four-piece kit, but I soon discovered that with every note I was inching closer to playing myself right off the stage. With few options and little time, I was left with no choice but to unleash every spike and spur on that drumset into the rug, and thus into the brand-new floor.
Most drummers can relate to at least part of that story, whether it's trying to preserve a nice floor, preventing a drumset from sliding, or both. It's tales just like mine that inspired the creation of the Black Widow Drum Web ($99.95), which, according to the company's website, can "immobilize your drumset" and "protect all types of drums and floors." For obvious reasons I was excited for the opportunity to review this product and see if it could truly provide a solution.
The Drum Web comes in a lightweight carrying case and includes all the necessary hook-and-loop fasteners and marking strips. When folded and in the case, the mat takes up only 12″x15″. This small size, combined with the quick setup and teardown time, makes the Drum Web ideal for players who have to transport their kit between locations. The Web is essentially a durable sheet of fabric on which you strategically place strips of fastener to hold your pedals in place. The concept is that your body weight and the fasteners prevent the drums from sliding. In theory, this should eliminate the need for spikes or spurs. Advertisement
For more info on the Drum Web, check out the complete review in the July 2013 issue of Modern Drummer.