Free Online Drum Lesson With Tony Royster Jr.
Known for his speed around the kit, Tony Royster Jr. will be teaching a free online drum lesson on building hand speed at Drumeo.com on Sunday, May 12, starting at 1 pm PDT. Drummers can sign up at drumeo.com.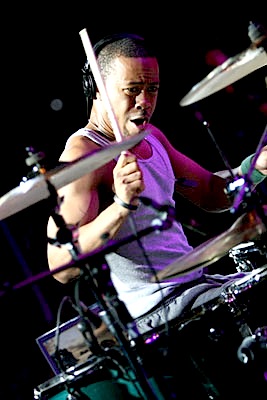 Tony will offer insights into how he developed his amazing hand speed and will provide exercises and guidance for other drummers to do the same. The live lesson is sponsored by Roland Canada and will use Drumeo Edge's live-streaming video technology. Drummers can watch the lesson over the Internet, submit questions for Tony, and chat with other students using any internet-ready computer, tablet, or smartphone.
Tony's drumming career began when he won the Guitar Center Drum-Off competition in 1995 at age eleven. He was voted the number-one "up and coming" drummer by Modern Drummer magazine in 2000 and has performed at NAMM, PASIC, Montreal Drum Fest, the Florida Drum Expo, and the Modern Drummer Festival. Tony has graced the stage with many talented musicians, including Jay-Z, Kanye West, John Mayer, Sting, Bono, Coldplay, the Foo Fighters, En Vogue, and Joe Jonas. Advertisement
Drumeo Edge offers motivation, inspiration, and support for drummers to achieve their goals with daily live lessons, personalized student lesson plans, a library of drum play-alongs, and more. Visit www.DrumeoEdge.com for more details.
Sign up for the Tony Royster Jr. lesson, for free, HERE.