Bonzo Birthday Bash <br>NY/NJ East Coast Invasion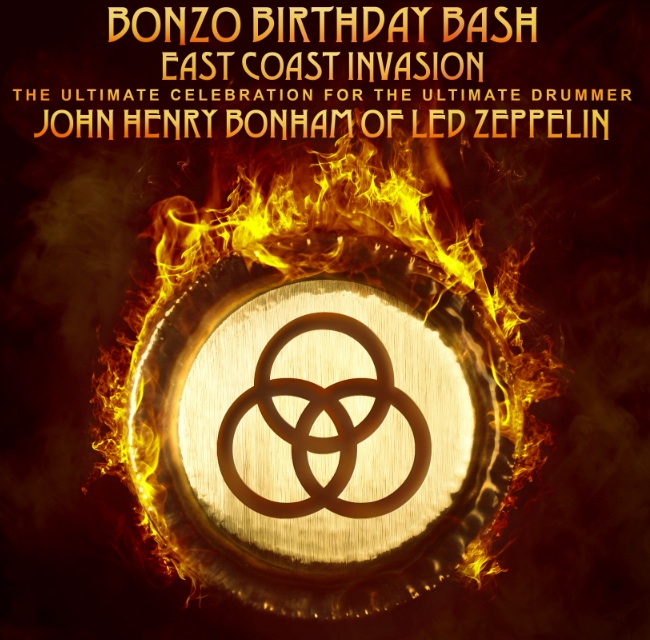 Brian Thomas Tichy and his partner Joe Sutton have decided to bring the Bonzo Bash/John Bonham celebration to New York and New Jersey for three shows. The shows, co-sponsored by Modern Drummer, have been booked for May 30, May 31, and June 1 to pay tribute to John Henry Bonham on and around what would have been his 65th birthday.
Since the first Bonzo Bash (The Groove Remains the Same) on September 25, 2010, which brought eighteen great drummers together on one drumkit in West Hollywood, Tichy and Sutton have done a total of five Bonzo Bashes, with each one gaining more momentum. Fifty drummers and thirty guests have performed over 100 songs through the course of the shows. The last Bonzo Bash was held on January 24, 2013.
"I had this idea back in 2010, when one day it occurred to me that Led Zeppelin was the only band I had never stopped listening to for over thirty years," Tichy says. "The idea literally came to me in that instant. I was going to go for a backyard party or a kegger in a rehearsal room, but then figured if all these drummers actually get together, it should be made available for people to see. So I talked to promoter Joe Sutton, a Zep Head himself, who happened to have the exact night on hold at Key Club, and that was that." Advertisement
"Each drummer chooses his or her favorite Led Zeppelin song and plays it on an amber acrylic drumkit with house band the Moby Dicks," Tichy continues. "This coming together of the world's best drummers also brings with it an undeniable, communal spirit that is very hard to find at any other type of rock show. We all have a great time as it's all about celebrating the amazing drumming of John Bonham and his timeless impact."
Appearing at all three NY/NJ shows will be Carmine Appice, who is co-hosting, Michael Cartellone (Lynyrd Skynyrd, Damn Yankees), Joe Franco (Good Rats, Twisted Sister, Widowmaker), Jerry Gaskill (King's X), Jojo Mayer (Nerve), Johnny Kelly (Danzig, Type O Negative), Jonathan Mover (Aretha Franklin, Joe Satriani), A.J. Pero (Twisted Sister), Bobby Rondinelli (Rainbow, Black Sabbath), Matt Starr (Ace Frehley, Burning Rain), Brian Tichy (Whitesnake, Foreigner, S.U.N.), and Steven Wolf (Alicia Keys, Pink, Britney Spears).
Liberty Devitto (Billy Joel) and Van Romaine (Steve Morse) will be appearing at the Long Island and New Jersey events. Mike Portnoy (Adrenaline Mob, Winery Dogs, ex-Dream Theater) and Chad Szeliga (Black Label Society, Breaking Benjamin) will be in New Jersey, and Thommy Price (Joan Jett, Billy Idol) will appear in New York City. Advertisement
Special guests at all three shows include Russell Allen (Adrenaline Mob, Tred), Mike Orlando (Adrenaline Mob, Tred), and Sass Jordan (S.U.N.). Eddie Trunk (That Metal Show) will host the New Jersey event.
More drummers and special guests will be announced soon.
Show Dates
Thursday, May 30, at the Gramercy, NYC
http://www.thegramercytheatre.com/
Friday, May 31, at Revolution in Amityville, NY
http://revolutionli.com/revo/
Saturday, June 1, at Bergan PAC in Englewood, NJ
http://www.bergenpac.org/
For additional information, visit http://www.facebook.com/bonzosbirthdaybash.