Owl's Dan Dinsmore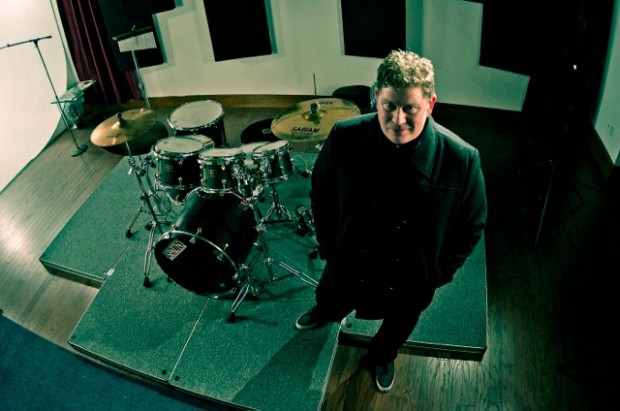 My name is Dan Dinsmore, drummer of the rock trio Owl. I last wrote a blog for moderndrummer.com in 2009, when Owl's debut album came out, and I wanted to share a little about our latest recording, The Right Thing, due out April 9.
I approached the new record a little differently from the previous one. The Right Thing took about two years to fully write and record. We did four of the drum tracks at Matt Sorum's home studio, Drac Studios in Los Angeles, which is where we had recorded the entire first record. For the first four tracks I played a DW Kit with a 24, 12, 14, 16, 18 configuration, which gave a big thunderous sound. I also used a variety of snare drums, including the old Supersonic, which I played on most of those tracks.
After we finished the L.A. sessions, we recorded and tracked the reminder of the album at my home studio, and then at my recording house, Overit Studios, which is a 13,000-square-foot renovated church with forty-foot ceilings in Upstate New York. I built one of the most insane drum rooms there, which is a dream come true. I used a Spaun kit with a 22, 8, 10, 12, 16, 18 configuration. I messed around with various types of overhead mics and utilized Royer Ribbon mics for some killer room sounds. The snares of choice for these sessions were a Spaun 6×14 steel drum and a Noble and Cooley 8×14 wood drum. I also used a special Ludwig 6×14 brass drum. Advertisement
We really let things flow and just happen; there was a lot of jamming and open feels where I got to play a great deal from the heart, and I loved every minute of it. The Owl sessions are always interesting from a rhythm section point of view because of singer/bassist Chris Wyse's style of playing the upright bass with distortion. And some of the writing seems simple in nature, but typically they are odd signatures with pretty complex arrangements.
You will hear a lot of my influences on this record, since it is extremely varied in nature. It's funny that when I started thinking about writing this blog and possibly speaking about "my style," I realized that this album really does represent the music I practiced to when I first started playing. I thought that this was odd, since obviously we all move on to do a tremendous amount of studying and practicing and growing into our own. However, it is interesting that the first records I practiced to had such an influence through my entire drumming career.
I remember as a thirteen-year-old learning how to play along with Steve Gadd on Paul Simon's "50 Ways to Leave Your Lover" and John Bonham on Led Zeppelin's "Moby Dick." Some of my most influential albums growing up were Iron Maiden's The Number of the Beast, The Cars' Candy-O, Michael Jackson's Off the Wall, Blondie's Parallel Lines, Cheap Trick's Live at Budokan, Fleetwood Mac's Rumours, and Boz Scaggs' Silk Degrees. They all had a massive influence on me not just because of the bands and the songs, but also because it was the beginning of drumming changing my life, and it was now part of me forever. I was also pulling through the loss of my father, who died when I was only twelve. Drums gave me my outlet and my expression. Advertisement
As I recorded this Owl record, I thought of my life as a young boy and how I felt, and it was a great experience falling that deep again. I hope you get to take a listen and maybe catch us play live.
For more on Dan Dinsmore and Owl, go to owltheband.net.