Brian Tichy
Hello MD. How did I get asked to be the drummer to play with Aerosmith's Steven Tyler and Joe Perry at the John Varvatos–hosted 10th Annual Stuart House Benefit show? (Stuart House is an organization that raises money and awareness for sexually abused children.) Well, I'll tell you. In 2011, before the Whitesnake tour, I got the opportunity to track drums on Steven Tyler's solo single "Feels So Good." Steven watched me track them that day. Two takes later, I was done. That's what led up to him calling me to play this benefit with him and Joe Perry.
But nothing prepares you on how to react when you get a call from Steven Tyler! He started complimenting my drumming from the day I tracked his song. Then he told me what he wanted me for. He started naming off the songs he wanted to play: "Dream On," "Sweet Emotion," "Walk This Way", etc. I was tripping out that soon I would get to play songs from one of my favorite bands ever—songs I had been playing since I was ten years old—and with the guys that wrote them. Come on!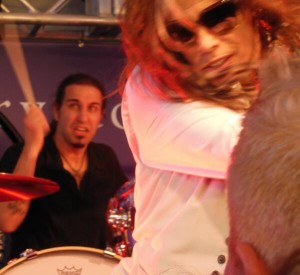 The day before the show, we rehearsed. I was inside a place I'd always wanted to be: I got to work with Steven and Joe! I can't go on without mentioning Aerosmith's awesome keyboardist, Russ Irwin, who played the show with us, as did Stone Temple Pilot bassist, the amazing and super-cool Robert DeLeo, and my bud Slash, who rehearsed "Mama Kin" with us. Being buds with these guys took a bit of the stress off. Robert and I are huge Aerosmith fans and were beyond ecstatic that we were getting to be the rhythm section for the Toxic Twins!
Working with Steven Tyler is an experience I am so psyched to have had. He is everything you think he is and more. Talent and charisma pour out of him. In a tiny space of time, the man did a cowbell solo over a random groove of mine, jumped on piano and harp and jammed a loose version of "One Way Street," then nailed "Dream On," played acoustic on "Seasons of Wither," sang his ass off the entire time, and basically took over the room with complete enthusiasm that is hard to top! You just sit back and watch how psyched he is and how much he generally loves music and performing. There aren't that many people on that level, and he is one my all-time favorite vocalist/songwriters. This was a top-of-the-top experience that I just let soak in and did my best to make the room groove. Rehearsal went really well, and I went home and kept on preparing for the show.
The next day we played the Varvatos event, and I used my chrome-wrapped Natals, with a no-hole 26″ bass drum, Paiste 2002 series cymbals, Regal Tip Tish Stix drumsticks, and Remo heads. We got up on stage and went for it. Some of the songs we never actually played from top to bottom at rehearsal, so there was a bit of an element of spontaneity. All in all, it was a load of fun and one of the coolest experiences I have had in twenty-four years of trying to be a professional drummer. Oh, yeah, and it doesn't suck when you walk off stage and Joe Perry says to you, "Great job. You guys were f***in' great!"
To view clips of the show go to "Sweet Emotion" , "Dream On", and "Seasons Of Wither".
For more on Brian Tichy, visit briantichy.com and somethinguntonothing.com.