Stickman Drum Experience Fantasy Drum Camp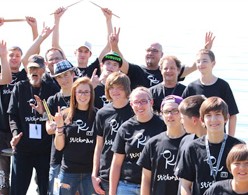 The Stickman Drum Experience Fantasy Drum Camp will take place at the Cedar Lodge on Blackstrap Lake in Saskatchewan from June 27 to July 1. The lineup includes players from all over North America. "We are very fortunate to be in our position of contacts with the biggest names in the industry," says organizer Jayson Brinkworth. "We are also very thankful for the support from the province, our volunteers, the music community, and businesses that contribute, as this event takes months of planning and preparation. This camp is designed to be very motivating, in a non-competitive atmosphere, where all of the players learn, jam, and hang with each other for the whole four-day event."
Artists appearing at the 2013 Stickman Drum Experience Fantasy Drum Camp include Scott Pellegrom, Matt Halpern (Periphery, BandHappy), Paul DeLong (Kim Mitchell, David Clayton Thomas), Chris Coleman (Prince, Chaka Khan), Tim Smith-Bass (Johnny Cash, Willie Nelson), Billy Ward (BB King, Bill Evans), and Ronn Dunnett (Dunnett Classic Drums). Saskatchewan's own Chris Dimas and Jayson Brinkworth will be teaching classes during the event as well.
Highlights of the camp include access to big-name artists and experts
, indoor and outdoor drumming activities, and group sessions throughout the day and evening. Practice rooms will be open fourteen hours a day. There is also a nightly fire pit hang
, a grand finale drum karaoke night with a live band, and daily prizes and giveaways
. Advertisement
The Stickman Drum Experience Fantasy Drum Camp is within driving distance from Saskatoon, Regina, Winnipeg, Edmonton, Calgary, Lloydminster, and Minot, and is thirty minutes from the Saskatoon International Airport. The $999 CDN registration fee includes all meals, double-occupancy accommodations, lessons, classes, and jams.
For more information and to register for the camp, visit stickmandrumexperience.com.