Mike Lloyd of Leogun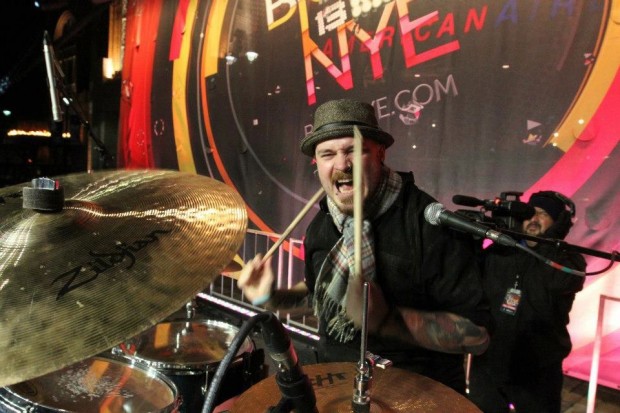 Hey there! I'm Mike Lloyd, and I play drums for the band Leogun. I'm truly honored to blog for Modern Drummer. My earliest memory of wanting to play drums comes from when I was ten years old and riding in the back of my dad's car. He put on Led Zeppelin IV, and from the first drum roll in "Black Dog" to the iconic reverbed and hard-hitting groove of "When the Levee Breaks," I knew that I wanted to be a drummer. I didn't start lessons until two years later, in secondary school, and I'm now twenty-five. I've had a variety of teachers throughout the years—friends, music tutors, drummers from bands I have played with, and most recently, Matt Halpern from Periphery. I love all styles of drumming and love getting the most out of experiences. Some of my other influences include Dave Grohl, Brad Wilk, Dennis Chambers, Ginger Baker, and Keith Moon.
I am the most recent addition to Leogun, having only been in the band for just over a year. I knew Tommy (lead vocals, guitar) and Matt (bass, backing vocals) for years before, as we went to music college together, but it was only in December 2012 that I was asked to play with them. Since then, so much has happened. We have been signed to Yamaha's new record label, Yamaha Entertainment Group, and Rocket Music Management, founded by Sir Elton John, is managing us. We have recorded an EP, which is available now on iTunes, and we have also recorded a full-length album, which is to be released early this year. We have a single out now, titled "Let's Be Friends," from the EP, and it is featured on the forthcoming album as well.
We are an English band currently on our second tour of the USA. We are traveling in a minivan, with all of our equipment and suitcases packed tightly in the back, going from city to city, show to show, building our fan base as well as our Facebook and Twitter following, while playing to as many people as we possibly can. We love every second of it and are always looking forward to the next show, meeting new bands, and just having the best time doing what we love. We have met so many amazing people so far and have played with some fantastic bands. We were lucky enough to visit Russia as well, and to play festivals and venues in places like Moscow and Perm. Advertisement
We played on the "Kiss Kruise 2" last November, and it was something that we never thought we'd do. But it was an experience we won't forget. We met a lot of amazing musicians, including Kiss. It was four days of pure fun in the sun, and we would all love to do it all again!
If you are in a city we have a show in, come along and have a party with us. All the best! See you soon!
For more on Mike Lloyd and a list of Leogun's current tour dates, visit www.leogunband.com. To see the video for "Let's Be Friends," click here.