Frank Zummo of Street Drum Corps and thenewno2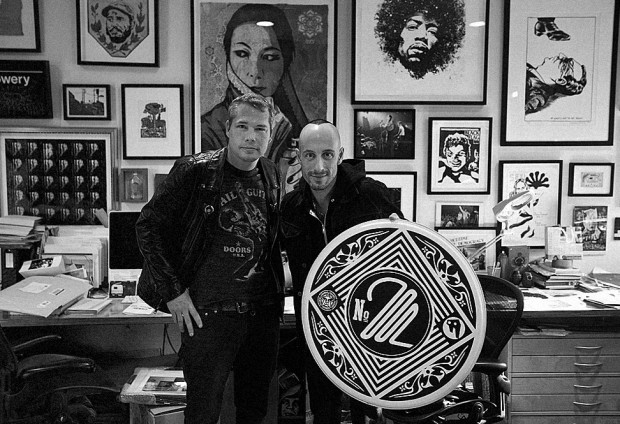 Frank Zummo (right) and Shepard Fairey, photo by Obey Giant
Hello, MD! Frank Zummo checking in. This year kicked off with Street Drum Corps debuting our new show "Lost Vegas" at the Hard Rock Hotel and Casino in Las Vegas. This show was nine years in the making and our biggest production to date. Our cast featured thirteen performers, with special guests Tommy Lee, Adrian Young, and Stephen Perkins. The show was a sold-out success, and this production will be returning to Vegas soon. We just released our fourth studio album, Children Of The Drum, which is available worldwide on all digital retailers.
This February, the movie and soundtrack for Beautiful Creatures was released. George Harrison's son Dhani's band, thenewno2, scored all the music for the movie. I recorded half the drums in London and the rest in Los Angeles. In London, I got to record at Friar Park. I tracked on Jim Keltner's DW kit and Ringo Starr's Ludwig kit. It was a completely overwhelming and amazing experience! Back in Los Angeles, I tracked with my new DW kit. For the soundtrack's release, we performed an intimate show at Jim Henson's Studio A in Hollywood. We performed with fourteen musicians. It was really powerful performing pieces from the soundtrack with live strings and brass. We even had Mike Campbell from Tom Petty and the Heartbreakers play slide guitar with us.
Recently, we performed the main title from the movie on the Tonight Show with Jay Leno. For the Leno show, artist Shepard Fairey, from Obey Giant, created custom art for my bass drum head. In May, we will be hitting the road with Black Rebel Motorcycle Club for a month in the US and Canada. Full tour dates can be found at thenewno2.com. Advertisement
It's always a pleasure checking in with the MD family! Much love!
To see videos from the Beautiful Creatures soundtrack, visit thenewno2. Street Drum Corps' Lost Vegas Video can be found here, and the single and music video for "S.D.C.X"  here.
Frank Zummo and Shepard Fairey photo by Obey Giant
Frank Zummo and Dhani Harrison at the Tonight Show with Jay Leno (photo credit Zummo)
SDC Lost Vegas photo of Frank Zummo, Tommy Lee, Adrian Young, and Stephen Perkins by Erik Kabik
Frank Zummo recording Beautiful Creatures soundtrack in London (photo credit Zummo)