The Sessions
ENRICH * EDUCATE * EMPOWER
The Sessions is a powerful and interactive day-long presentation where artists sharpen their business skills in pursuit of excellence in their careers. Items addressed include contract negotiations, entertainment law, marketing, self-promotion, image maintenance and performance fundamentals. The Sessions ends in a open jam where artists and participants play together.
You must register for this free event at www.thesessions.org.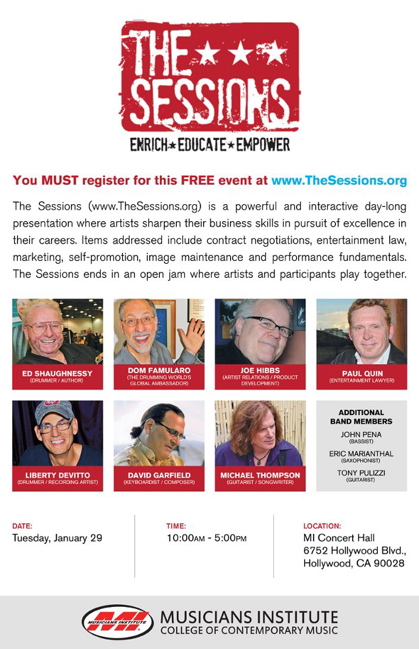 There will be a second The Sessions in the NAMM Hot Zone on Sunday, January 27th from 11:00 A.M. to 1:00 P.M. The panel will include: Dom Famularo ("global drumming ambassador"), Liberty DeVitto (drummer/recording artist), Paul Quin (entertainment attorney), Bruce Kulick (guitarist), John DeChristopher (artist relations), Rich Redmond (drummer).