Mark Egan On…<br> The star bassist reflects on 15 world-class drummers
The February 2013 issue of Modern Drummer magazine features renowned bassist Mark Egan sharing some of the lessons he's learned from working with drumming royalty. Here he focuses the discussion on the unique qualities and skills each of these players brings to the table.
Vinnie Colaiuta
Vinnie and I first played together on a recording with Bill Evans called Soulgrass. I was blown away by his musicianship. When I was putting together my recent recording Truth Be Told, I thought that Vinnie would be perfect for the songs.
Because of everyone's schedules, we only played through the songs a few times at the session, just before recording. I had recorded some very basic demos at my studio and had sent everyone a CD and charts a week before the date. Advertisement
I'd made some basic loop drum tracks on the demos that were just a hint of the drum direction. I did have some specific bass lines for the compositions, and Vinnie worked his magic around them, and I altered them to complement his grooves. Any direction that I gave to Vinnie was to play whatever he wanted to. He invariably came up with great parts and feels.
On "Sea Saw" Vinnie takes a solo over the vamp at the end of the song. [In a case like that] holding on to the time is, as Jack DeJohnette has said, like being inside a clothes dryer. We really had to buckle our seatbelts to keep track of the time. Vinnie always knew where it was, and I had to trust my instincts. I stood directly in front of Vinnie, about four feet away from him, for the entire session. What an amazing experience.
Jack DeJohnette
Jack's one of my favorite drummers. I just watched a YouTube video of him with Miles in 1969. That's the creative music that I'm drawn to—the flexibility and amazing groove and creative flow. I've been a huge fan of Jack for many years and was fortunate to record some free music with Bill Cosby and Jack along with Harold Mabern, John Scofield, and Sonny Sharrock. I love the period with Miles Davis in the late '60s and early '70s—Live at Fillmore, Bitches Brew, Live-Evil…. I love this music, and Jack was a huge part of it. I believe that he described his feel as being similar to the clothes in a clothes dryer, where the clothes are churning freely but the dryer/time is constant. Advertisement
Danny Gottlieb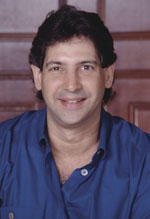 Danny is such a creative drummer. He knows how to complement the music at hand. What a touch on the cymbals. Danny and I go way back to the University of Miami in the early 1970s. We played so much in the mid-'70s with the Pat Metheny Group—300 days a year for four years on the road—and later in the early '80s and '90s with our group Elements. Danny was a dedicated student of Joe Morello and also studied with Gary Chester. He has incredible hand technique and is a listener and team player. His cymbal work is so special. We've played together so much that we have a sort of telepathy from all of the experiences we've shared. We continue to play with our group Elements.
Steve Gadd
I've been fortunate to record with Steve on many occasions in New York, and he is a true master. His sensibilities and feel are of the highest caliber. What I enjoy about Steve is his ridiculously great groove and musicality. His playing on [Steely Dan's] "Aja"—wah!
Steve Jordan
Steve is the ultimate groove master. We have the same birthday, January 14—it's also Grady Tate's. When I first came to New York in the mid-'70s we played a lot on recording sessions and in many loft jams with Clifford Carter, Hiram Bullock, and Joe Caro. Steve is a brother to me, and he always sounds amazing. Advertisement
Keith Carlock
We've been playing over the last year. I love Keith's feel and musicianship. He really goes for it. I love the way that he tunes his drums, and he really listens and complements. A few months ago we had the chance to stretch out at the P&G Bar in New York with Jonny Rosch, and it was an amazing experience for me. Stream of consciousness.
Billy Cobham
Billy, of course, is a master drummer. We played together in Japan with the Gil Evans Orchestra, and it was an honor. I remember hearing him with the Mahavishnu Orchestra several years earlier while I was in Miami, so to be playing with Billy was a dream come true. I enjoy the way that he has total command of his instrument and the music, and how he can take it in any direction at any moment. He is so powerful and flexible.
Dave Weckl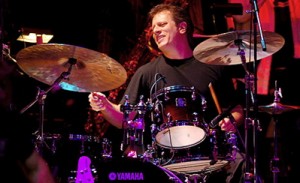 Dave is an awesome musician. We've played many sessions in New York City as well as tours in Europe. I remember when Dave first started recording in New York; he had such a great feel and was so dedicated to the music. We recorded together on Mike Stern's first recording, Upside Downside. Advertisement
We recently recorded with Bill Evans in Cologne, Germany, with the WDR Big Band, and it was an incredible experience. Dave has a masterful command of the drums and an extreme dedication to the groove. I'll never forget his drum solo during the sessions. I was playing a montuno type of repetitive groove figure, and he played some of the most amazing drumming I've ever heard. Too bad that it didn't make it to the CD.
Airto Moreira
I've been playing with Airto's band since 1981. He taught me about playing samba and Brazilian music in a huge way. I first heard Airto on Miles' Live at Fillmore and Live-Evil. He is a natural player from Curitiba, Brazil. I love his drumming on the Return to Forever recording Light as a Feather. Not many people realize how great of a drummer Airto is—check out that Paiste cymbal work.
I remember working with him in L.A. and rehearsing at his house. We were listening to Live-Evil and he was explaining how to listen to the music. I had asked him what it was like playing with Miles, and he said that he listened to everything that was happening at the moment. Advertisement
Ndugu Chancler
Ndugu and I played on some Bill Cosby sessions. What a groove. I always loved his playing on the Weather Report recordings. He is another drummer with such a solid and creative groove.
Joel Rosenblatt
Joel is a great drummer with wide versatility. I've known and played with Joel in many situations, and he always makes the music sound great. We recently toured with Bill Evans' group, Soulgrass. Joel plays for keeps.
Lenny White
I've been listening to Lenny since recordings like Bitches Brew, Return to Forever, and Freddie Hubbard's Red Clay. We played together with Larry Coryell in a trio format, and what a great experience that was. Lenny grooves with all feels and is a very creative player, always listening, reacting, and grooving hard. I love his playing.
Paul Wertico
Paul and I are alumni of different incarnations of the Pat Metheny group. We've also been members of the Larry Coryell Trio since 2002 and have played together all over the world since then. Paul is the consummate musician, and he always amazes me with his creativity and commitment to the groove. Advertisement
Shawn Pelton
Shawn is a great drummer. He always makes the music sound great and comes up with a very creative groove that makes the song happen. We've "laid pipe" on the New York studio scene for many years together, and I always enjoy being in a rhythm section with him. You know the groove will be great and creative.
Karl Latham
Karl is one of my favorite drummers to play with. He and I have been playing together for several years, and it's a creative experience. Karl always brings a fresh creative force to the music and is flexible with multiple styles and ideas. He always goes for it, and he's a team player. We have a group, Unit 1, with guitarist John Hart, which is an ongoing creative outlet.