Dan Kashuck of Seven Day Sonnet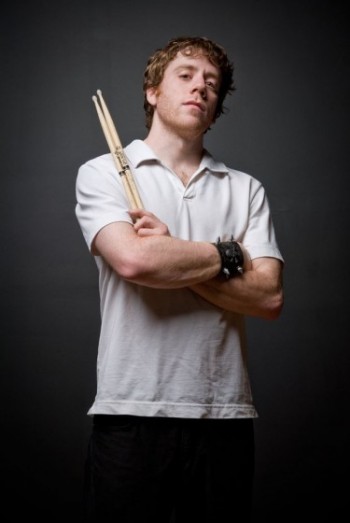 Hey, MD readers. This is Dan Kashuck, most recently drummer for Seven Day Sonnet. I've had the privilege to tour throughout the country in support of some great bands over the past few years, including Sevendust, Sick Puppies, Adelitas Way, and NonPoint. I also got the chance link up with some great endorsements with Pearl, Pro-Mark, and Evans, which was a dream come true.
Recently I decided to spend some time off the road to do some personal drumming stuff, since it can be tough to practice new things on a full kit while on tour. I figured it'd be great to do some solo drumming videos on YouTube. Doing drumming videos is one of the best discoveries I've made for practicing. If there is one thing I've learned from touring it's that playing alone in the practice room and playing live are two completely different things. For me, it's always been more difficult to play live because the nerves and adrenaline are flowing hard, and it's harder to relax and not think about what you're playing. The same goes for drumming in the studio. Therefore, I discovered that doing these drumming videos is a great way to practice "under pressure" in order to overcome those mental challenges that might affect your playing. If you can learn to play something with the camera rolling just as easily as without, it's a great way to prepare yourself for pressure in the studio and at live gigs. The bonus is that you get a sweet drumming video out of it to share with the world. It's a win-win.
Click here to watch one of my videos. Being mostly a hard rock/metal drummer as of late, I wanted to do something different for this video. I stumbled upon an awesome dubstep remix by DJ Scrux of a Rihanna song I've always liked, called "Where Have You Been." I thought it would be great to do a drum cover on this one, taking some freedom and creativity with the drum parts, and giving the track a new feel and direction in some places. It was also a great excuse to experiment with some of the electronic drum sounds on my Roland kit, which made the process even more fun and creative. Also, electronic kits are perfect for doing drumming videos because all you need is one cable to record. All the drum sounds you hear in this version are from my playing. Advertisement
After I finished the video, I sent it over to DJ Scrux via Twitter to see what he thought of what I did over his track, and he loved it! So not only are these videos great for practice, but it's also amazing how you don't even need to have met someone to make music with them these days. How cool is that? It's also a great way to meet new artists from around the globe.
For more on Dan Kashuck and Seven Day Sonnet, go to sevendaysonnet.com.