Dan Johnson with Brian "Head??? Welch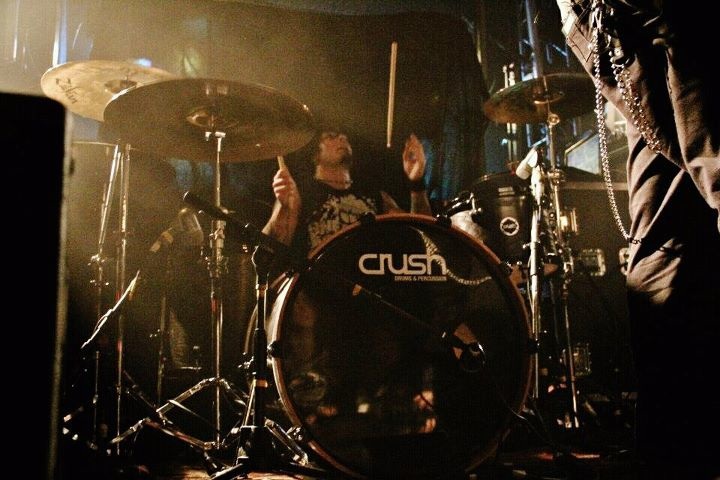 Hello, Modern Drummer! I've read about every drummer I admire in your magazine, so I'm honored to contribute to this page.
I'm playing with Brian "Head" Welch, formerly of Korn, in our new band, Love And Death, and loving it! I've been with Head since 2009, when he and producer Ralph Patlin picked me out of a lot of YouTube auditions. We've been traveling all over the world, as well as the US, and we are amped about the new CD coming out this month, Between Here And Lost. We'll be back on tour starting in February. On the road with the guys is my absolute favorite spot to be, no matter the location.
For twenty-four out of my twenty-seven years, I've had a drumset, and I played in school bands since 4th grade and in the drumline in high school. I had a band in school that played at parties, VFWs, and community events, called UO4. Since I grew up in southeast Michigan and southwest Pennsylvania, I was lucky to have musician friends from both places that allowed me to learn stuff like Blink-182, Jimmy Eat World (in Pennsylvania) and blues/southern rock with some guys from Michigan.
When I moved to Phoenix, Arizona in 2004, I hooked up with a band called Mo Nasty, and we played the local circuit. I laid the tracks on their CD. I love flashy playing and am always perfecting the flash, along with a super-fast double kick. Playing the drums is so much more than just keeping a beat to me. Leading a healthy lifestyle (I work out a lot) helps my drumming. I like to warm up thirty to forty-five minutes prior to each show. Playing as hard as I like to play, it's the protein shakes, running, and lifting that keep my hands and feet fast. Advertisement
Being a professional in the studio, as well as on stage, is very important to me. I realize that time is money so getting it down in one take is always my goal in the studio, no matter who's hiring me. I love my Crush drums, and I play with Vater sticks. When I'm not touring with Love and Death, I keep my hands in other styles by playing country rock with James Parks. We've opened for artists such as Willie Nelson, Charlie Daniels, and Jake Owen.
My studio credits are Love and Death, Brian "Head" Welch, James Parks, Sammus Theory, Cold Fusion, and Mo Nasty.
That's all for now!
For more on Dan Johnson, visit Love and Death's website, Dan's Facebook, Dan on YouTube, Love and Death on Facebook, James Parks' Facebook, Back FromAshes on Facebook or this video of the Sammus Theory on Vimeo.