<em>MD</em> Pro Panelist Gerald Heyward on Vinnie Colaiuta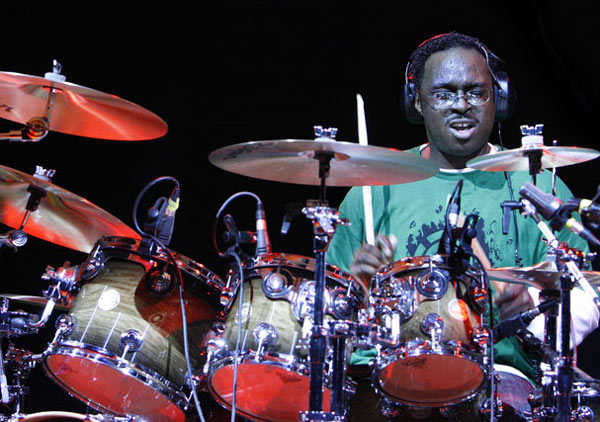 Hi MD! I'm excited about the latest issue and I want to let you know that Vinnie Colaiuta is one of my top-five favorite drummers! I started listening to him and watching him closely after the Zildjian Day video. He was so incredible. After, I started to research Vinnie more by looking on the back of albums for his name. In my research, I discovered that he played on a lot of commercials and movie soundtracks, as well.
I'll never forget the day I finally had the opportunity to meet Vinnie. Dave Levine (a marketing specialist at the time) introduced us. Dave called me and said, "I would like for you to go with me somewhere today."  He picked me up, and we went to a place called Drum Paradise. I was sitting there when a white and black Corvette Stingray pulled up. The car caught my attention because my father had the same car. I got up to take a closer look, and when I got to the car, low and behold, who gets out? Vinnie! I was mortified, and rigor mortis started to set in. I literally ran back in the warehouse to Dave and said, "Yo, Vinnie just pulled up!" Dave started to laugh and said, "Yeah, that's my surprise for the day. You get to meet and hang out with Vinnie!"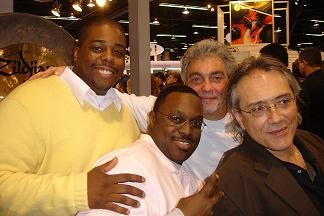 As the day progressed, Vinnie and I took pictures and talked about everything. I told him about the research I conducted on him and how I knew that he played on the theme music for the NBA Finals and the Maxwell House coffee jingle. We hit it off, and it was so cool. We even talked about his spiritual walk with Christ. Advertisement
Time went on, and I didn't see Vinnie for a while after that. Then, it just so happened that I was doing the Grammy's with Mary J. Blige. We were performing her song "No More Drama." At the end of sound check, right after I hit the last crash, I turned around on my seat, and who was standing there? Vinnie! He said, "Gerald, I heard you, but I had to come and see you play." Again, rigor mortis started to set in. But I got to hang with Vinnie all that day in the dressing room. We talked, we laughed, and it was all good times. This guy is one of the rhythm gods. Enjoy the January issue. I know I will!
For more on Gerald go here, And check him out at the 2006 MD festival.