Kenneth "Big Eazy??? Walker of the Lee Boys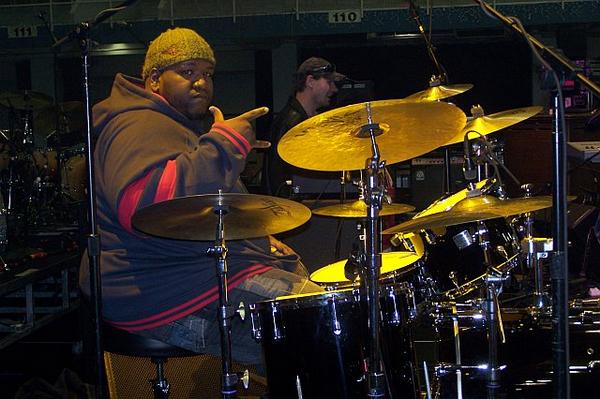 My beat in music consists of giving back the gift that I was given. I started in music at a very young age, learning first from family. My mom told me that she and my dad discovered I had a natural ability to keep a beat when I was six months old. As she tells it, she put on some music as she was getting ready to clean her room. So she could keep an eye on me, she sat me in the middle of her bed and put some of my favorite toys around me, including a Fisher-Price toy drum with mallets. As she was moving about the room, she thought she heard me keeping a beat to the music. Thinking it wasn't so, she continued cleaning the room. When she heard it again, she said she stopped and immediately ran and got my dad. Needless to say, my parents were amazed when they realized what was going on. My mom says she recognized I was going to be a gifted percussionist right away. Whenever my mom tells me this story, I understand my passion to play the drums. I feel I have a beat in my heart and soul that has to come out.
Having the ability to play drums by ear opened many doors for me to show my talent. I started playing in church with my granddad and uncles. I would naturally create accompanying beats, or totally match the sound just by hearing it. My official training in middle- and high-school band gave me theoretical knowledge that added to my innate skills, which helped me become proficient in the art. But being on the road these last eleven years has been a lesson no schooling could have possibly given me.
I stay simple because I feel you don't really need a lot to make a full sound. I really believe in a hard pocket. In church, I learned how strong drive and a hard pocket from a drummer makes a good song. You learn to step out only when necessary. Advertisement
I like to work with a three-piece set. I have a 13″ snare, a 13″ tom, and a 16″ floor tom. I usually have a hi-hat, one crash, and one ride cymbal. I add another crash sometimes for an effect. I play with all Sabian cymbals.
I have played with a lot of different drummers in these past eleven or twelve years. Learning from cats like Dennis Chambers, Chris Dave, Derico Watson, Chris Fryar, Cody Dickinson, Terence Higgins, to name a few. But the greatest influence, from my start, comes from Benji Beckford, T. Cecil Austin, and my uncle Alvin Lee. I have been in the arena of some seasoned cats, opening for people like B.B. King, John Mayer, and the Roots, and being on stage with ABB, Jimmy Herring, and Victor Wooten.
The Lee Boys just finished its third studio album, Testify, and we're currently on tour with Gov't Mule for a few weeks. 2012 has been an awesome year for me—learning and growing into a better musician, and I highly anticipate it getting better. Advertisement
For more on Earl Walker and the Lee Boys, go to leeboys.com.