Keith Harrison of the Pineapple Thief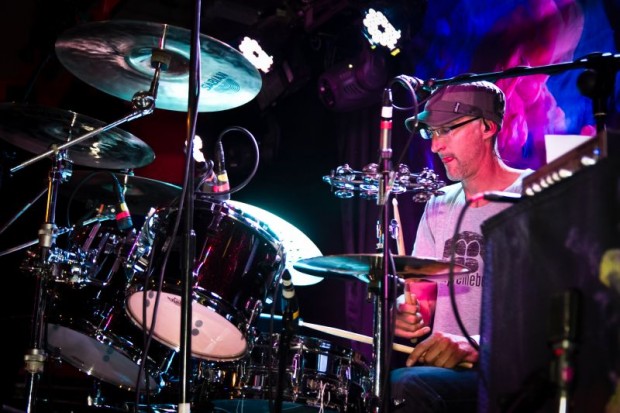 Question: What do you call a guy who hangs out with musicians? Answer: A drummer! With the prospect of being the butt of such drummer jokes, I have to ask myself the question, "Why did I choose to play drums"? Well, like most musicians will tell you, there is something you just can't define that naturally inclines you to pick up an instrument. And at the age of nine, I realized that my natural inclination was to play drums.
My folks had thrown good money after bad trying to successfully produce a pianist. After wasting two years of his life trying to teach me, my piano teacher finally conceded defeat and recommended I have a go at drumming. He put me in touch with a great tutor named Ray Vincent, who was a superb drummer himself and a top-quality teacher. Although I didn't appreciate how lucky I was at the time, I now realize how much I owe this guy for getting me started with the fundamental rudiments that underpin many styles of modern drumming. However, I confess I never did enough practice between my lessons. (Sorry, Ray!).
My uncle got me a kit for my tenth birthday. When I say "kit," I mean it was marginally better than some saucepans and dustbin lid cymbals. It was a collection of different bits and pieces cannibalized from several kits. Nothing matched, and no doubt it sounded awful. But it was my first kit, and it started a drumming journey that has taken me all over the place—from big band jazz to orchestral drumming and through indie pop to progressive rock. Advertisement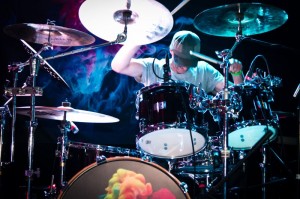 Almost ten years ago, I got a call from a guitarist friend asking me if I was interested in joining a rock band that he was playing with at the time. The band was the Pineapple Thief, and I'd never heard of them despite having released three albums. But I said yes, went for an audition, and got the spot. We've been steadily building the profile of TPT since then, up to the release of our latest studio album, All The Wars, this past September.
Like all musicians, I've picked up a broad range of influences and found that many different drummers, from the most famous to the more obscure, have inspired and shaped the way I play. I'm never sure how to answer the question, "Who are your biggest influences"? because it never stops, and I can't honestly say that one person comes top of the list. I love each of the following drummers for lots of different reasons, but essentially it's due to the fact that they make me sit up and listen by doing something unique, something that jumps out at me, and inspire me to want to add something new to my own playing. Every day is a school day, and listening to these guys has been the best way I've found to learn and develop my own style of playing. I've been influenced by Stewart Copeland, Buddy Rich, Vinnie Colaiuta, Omar Hakim, Steve Gadd, Gene Krupa, Larry Mullen Jr., Keith Moon, Cindy Blackman, Ed Lay, Manu Katché, Neil Peart, Sheila Escovedo, John Bonham, Mitch Mitchell, Phil Collins, Dave Abbruzzese, Steve White, Jojo Mayer, and so many more.
For more on Keith Harrison and the Pineapple Thief, visit www.pineapplethief.com.