Keith Carlock, Jimmy Herring, Wayne Krantz, Michael Landau, and Etienne Mbappe Form New Band the Ringers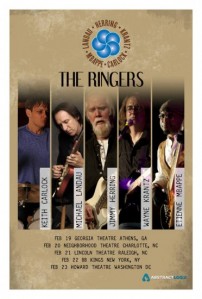 Group To Debut With Five Shows In February
Tour Hits Athens, Charlotte, Raleigh, New York, and DC
Jimmy Herring, Wayne Krantz, Michael Landau, Keith Carlock, and Etienne Mbappe will be performing as the Ringers, debuting in early 2013. This super-group brings together five different genres—rock, funk, jazz, blues, and African. They will be starting a very limited, exclusive tour on February 19 in Athens, Georgia, before hitting Charlotte, Raleigh, New York, and concluding on February 23 in Washington, DC.
Jimmy Herring is the founding member of the Aquarium Rescue Unit, Project Z, and Jazz is Dead. He has also played with the Allman Brothers Band, the Grateful Dead, Phil Lesh and Friends, and Béla Fleck. He currently serves as the lead guitarist for Widespread Panic and released his second solo album, Subject To Change Without Notice, this past August 21.
Wayne Krantz released his tenth album, Howie 61, this past April to critical praise. Krantz has played with Randy Brecker, Leni Stern, and Steely Dan, among others. Revered for his forward-thinking approach to improvisation (documented in his 2004 book An Improviser's OS), Krantz has  branched into new areas, while consistently skirting the edges of jazz, rock, and fusion. Advertisement
Michael Landau is a prolific session musician and guitarist who has played on a large number of albums since the early 1980s, with artists as varied as Joni Mitchell, Seal, Michael Jackson, James Taylor, Richard Marx, Steve Perry, Pink Floyd, and Miles Davis. In addition to his session work, Landau has fronted several bands including Raging Honkies and Burning Water.
Drummer Keith Carlock has recorded and toured with such musical luminaries as John Mayer, Sting, Steely Dan, James Taylor, Donald Fagen, Walter Becker, Diana Ross, Faith Hill, the Blues Brothers Band, Mike Stern, Leni Stern, David Johansen and the Harry Smiths, Richard Bona, Chris Botti, Wayne Krantz, Rudder, Harry Belafonte, Oz Noy, Larry Carlton, Clay Aiken, Rascal Flatts, Paula Abdul, and Grover Washington Jr.
Bass player Etienne Mbappe is best known for his years with the Zawinul Syndicate. In the '80s he was a member of the jazz fusion band Ultramarine, which incorporated jazz, African, and Caribbean influences. He also played with Ray Charles on his last album and is currently a member of John McLaughlin's 4th Dimension. Advertisement
The Ringers Tour Dates
Feb 19, Georgia Theater, Athens, GA
Feb 20, Neighborhood Theater, Charlotte, NC
Feb 21, Lincoln Theater, Raleigh, NC
Feb 22, BB Kings Blues Club, New York, NY
Feb 23, Howard Theater, Washington DC