Paul Delacerda of Warrior Spirit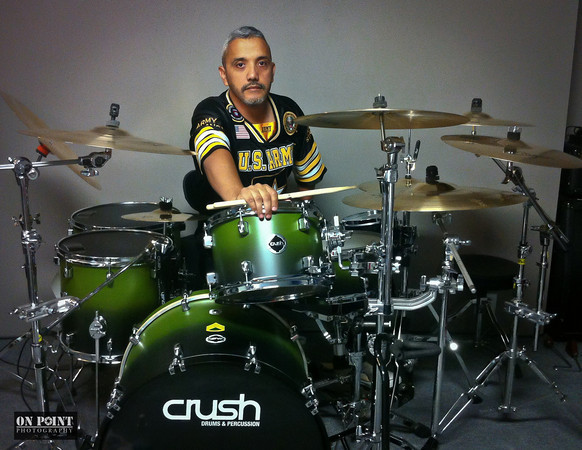 Hello MD readers! My name is Staff Sergeant Paul Delacerda, drummer for the first all wounded-warrior band, Warrior Spirit. My new weapon of choice after war is music, and I use it to heal others like me. My band is like no other band out there. We don't play for money, fame, or a record deal; we play to heal. We're not a bar band but are seasoned musicians with many years of experience to bring to the table. Our mission is to empower wounded warriors through music and help guide them as they transition into civilian life. We also provide information about non-profit veterans organizations that can help them when they get home. I was once told I would never play drums again after being blown up in Iraq, but today I'm an endorsed, full-time drummer!
I was born and raised in Houston, Texas and have been playing drums since I was nine years old. My father played guitar as a mariachi, and my uncle played drums with a Tejano band. I was introduced to drums through my uncle and to rock music through my friends. The defining moment in my musical career was after my injury in Iraq. I suffered a traumatic brain injury from an IED blast and lost a lot of my memory. However, I'm not one to quit. It took me over five years, and countless frustrating moments, to get where I'm at today. I had to relearn drums watching DVDs and YouTube. My music of choice is blues and jazz, and I went back to basics and learned stuff that my previous experience with hard, heavy metal playing never taught me—especially patience.
Earlier this year, my friend introduced me to the Rock and Roll Fantasy Camp. He was featured on the VH1 Classic TV show, and after seeing it I wanted in! I received back pay from my combat injury and used it to attend my first rock camp in mid-February. It was the best investment ever, and I figured that this was a sign. Advertisement
My first day in L.A. was great, as the staff at the camp was awesome and made me feel right at home. The first person I met was my rock-star counselor, Phil Soussan, former bass player for Ozzy Osbourne. He was a great influence on how I do things now. He knew how to push me and showed our camp band how to work better together as a group. The other great experience was jamming with the great Vinny Appice. This unbelievable drummer took at least an hour of his time to teach me different patterns and things I never knew I could do. We played directly next to each other with two drumsets in the room. He played, and then I played back. Needless to say, I returned to Rock Camp again this past October at its brand new location, the MGM Grand in Las Vegas. Gene Simmons was the headliner, and it was another great learning experience. I'd like to thank David Fishof and everyone involved.
I couldn't do any of what I do without the great support of Zildjian cymbals, Crush drums, Coffin cases, Aquarian drumheads, and Pro-Mark sticks, to name a few. These great companies support our troops and wounded warriors. Thank you!
For more on Paul and the Warrior Spirit Band visit www.rock4recovery.net and www.warriorspiritband.com.
To watch an interview with Paul on ABC News click here.