Patrick Kennedy Named U.S. Champion at V-Drums World Championship
Held on the eve of the annual Percussive Arts Society International Convention (PASIC), the U.S. finals for the 2012 Roland V-Drums World Championship exposed exceptional drumming talent.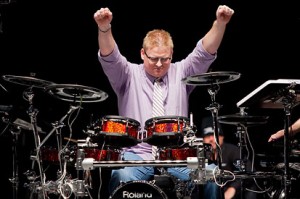 The big winner of the evening was Patrick Kennedy from the Austin suburb of Manor, Texas. He performed a solo that combined electronica, real-time loops, and a display of groove and fills.
Previously a runner-up in the 2011 U.S. semifinals, Kennedy will be representing the United States at the V-Drums World Championship in April 2013 during Musikmesse in Frankfurt, Germany. "It was an honor to participate in the V-Drums national competition," Patrick reflects. "I had an amazing time getting to hang out and talk with Thomas Lang and Johnny Rabb, as well as all of the other contestants." Kennedy won a TD-30KV V-Drums set with a set of Remo custom shell wraps, a complete set of DW hardware, and dozens of signature sticks from Vic Firth.
Runner-up Phillip "P.J." Hill of Milwaukee, Wisconsin performed with a blend of technique and hip musical style. The other talented competitors included Brandon Currie (Marietta, Georgia), DeCarlos Davis (Winston-Salem, North Carolina), Jeffrey Fajardo (Brooklyn, New York), Tony "T.J." Fisher (Long Beach, California), Casey Glass (Loveland, Colorado), and Reed Hayes (Deltona, Florida).
The national finals was the culmination of more than four months of competitions in the U.S., beginning with an eleven-week online selection process that began in June. Of the hundreds of submissions, forty-eight contestants were selected to compete in eight semifinal events in front of live audiences nationwide. These events were held on two consecutive weekends in September, where judges chose the final eight drummers for the national finals. Advertisement
For additional photos, videos, and further information on the Roland V-Drums World Championship, log on to www.RolandUS.com/VDrumsContest.