Dave Sundberg of Sister Sin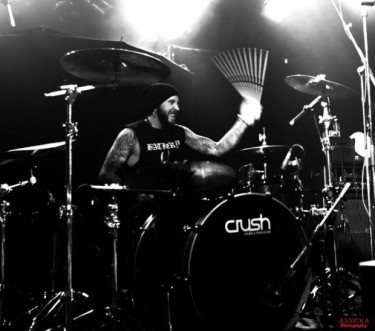 Hey, hey drum lovers and random readers! My name is Dave and I play drums in Sister Sin, a heavy metal band all the way from Gothenborg, Sweden. We're female-fronted but we've got bigger balls and more guts than most bands out there, hands down! If you've never heard of us before, then now is a perfect time to check us out and pick up our newest album, Now and Forever, through Victory Records. It's heavy and hits hard, so turn it up full-blast. You will not be disappointed.
Back in the day (the '90s), I got into heavy metal. When I was a kid, I remember sneaking into my older brother's room and stealing from his collection of Judas Priest, Iron Maiden, Accept…you name it. It was love at first sight (yes, sight, because the album covers are so cool), and I immediately started begging my dad for an electric guitar. As soon as I got one, I formed a band to try to be like these guys that I grew up idolizing. Time went by and I started listening to more punk rock, and just like Bon Scott said, "There was drums!"
I started playing the drums as soon as I could afford them. Punk music made me fall in love with them. I liked that the whole idea of the drums was playing as fast as humanly possible, and, unlike with guitar, I actually managed to practice a whole lot and got pretty damn good at it. (Or fast, at least.) Advertisement
Growing up, I was in a ton of different bands in a bunch of different genres, from punk rock to thrash and black metal. My music teacher at the time somehow saw a glimpse of talent in me, so I even got into jazz with the school orchestra, which was miles away from what I thought was remotely cool. Not that I noticed it then, but those practices and shows I did in school orchestra taught me a lot and definitely broadened my horizons.
Almost ten years later, I founded Sister Sin, or what would become Sister Sin. I had kind of grown tired of all the "extreme metal" coming from Gothenburg. There were so many bands coming from one single place, trying to do the exact same thing, and it was starting to really get on my nerves. At the time, I had started dusting off my brother's old vinyl, and I fell in love all over again. I picked up the guitar and what came out was basically remnants of my first love—heavy metal. The memorable riffs along with the sweet sound of Stefan Kaufmann pounding a steady beat to "Fast as a Shark," or AJ Pero's somewhat complicated but thoughtful and tasty drum fills on the Stay Hungry album…. Those of you who are familiar with these records know what I'm talking about. The drums breathe and aren't taking away from the actual song, just adding power and pure love. Nothing more, nothing less.
So that's my game ever since: meat and potatoes. That approach fits our kind of music like toast in a toaster. When I write a riff with a fat hook, I don't want to spoil it by hitting fourteen toms in the chorus. Just look at Mikkey Dee for example. His style is completely different in Motörhead than it was in King Diamond. Everything has its own place and time. One could maybe say that I use this argument because I can't play like Dave Lombardo. Well, that's true, but thank God there's no need to in Sister Sin, because then I would be out of work. Advertisement
Here we are now, and I have a small kit from the company I endorse, Crush Drums, consisting of a 24″ kick, 13″ tom, and 16″ and18″ floor toms. It's perfect! It's fast to set up during quick changeovers on tour, and it doesn't take up too much space in the trailer.
We have been on the road consistently since we released our first album in 2008 and I, along with my precious kit, have been able to share the stage with most of my childhood heroes—Motörhead, W.A.S.P., Accept, Saxon—which is beyond a dream come true for me (and all of us).
We're currently touring in support of Now and Forever in Europe, and people are going crazy for the new music. We will be heading out on our fifth North American tour, alongside former Warlock singer Doro, on February 2, and we're all really excited to get started. I suggest you all come out and grab a beer with me and we can talk about the weather…or drums! Cheers! Advertisement
For more on Dave Sundberg and Sister Sin, go to www.sistersin.com.