ProMark And Evans Offer Holiday Bundle
Buy a Brick of ProMark Hickory 5A Wood Sticks and Get a FREE
Evans Coated 14" G1 Snare Drum Head, Available while Supplies Last!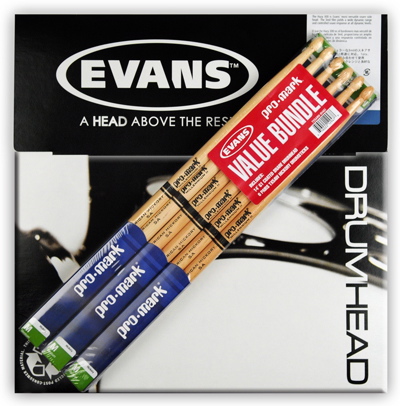 ProMark drumsticks and Evans drumheads announce a new bundle only available for the 2012 Holiday Season. For a limited time only, drummers can purchase a brick of six pairs of ProMark Hickory 5A wood tip drumsticks and get a free Evans Coated 14" G1 snare drumhead, a total retail value of $114.65! 
ProMark's Hickory 5A drumsticks' oval-shaped tip provides a full, dark sound. The 5A is versatile enough to be used in all musical genres. Evans' G1 snare heads feature a single ply of 10 mil film blending a bright tone, sustain and sensitivity.

The bundles will be available September 17, 2012 at a MSRP of $86.40.
For more information on ProMark drumsticks and Evans drumheads, please visit www.promark.com and www.evansdrumheads.com.