Legendary Drummer Chico Hamilton Continues Monthly Concert Series At NYC's DROM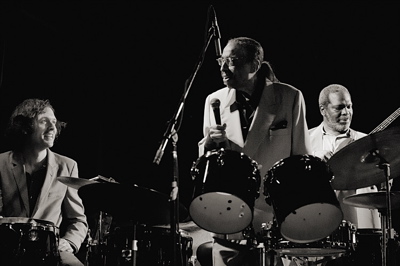 As evidenced on his latest recording Revelation (Joyous Shout!), 90 year-old drummer/leader Forestorn "Chico" Hamilton is still creating vivid, positive, uplifting, and relevant music. Saluted by the Kennedy Center as a "Living Jazz Legend", and appointed to the President's Council on the Arts, this NEA jazz master is considered one of the most important living jazz artists and composers.
DROM presents EUPHORIC – Celebrating the Life & Music of Chico Hamilton for three Sunday night performances this Fall (October – December) featuring Chico and his long-time touring band featuring Nick Demopoulos (guitar), Paul Ramsey (bass), Evan Schwam (flute + reeds), Mayu Saeki (flute), and Jeremy Carlstedt (drums + percussion) as well as special featured guests TBA.  Program includes mostly Chico originals off of Revelation ranging from the samba-ish gem "Footprints in the Sand" to the ballad "Every Time I Smile."
When:
Sunday, October 14, 7:15 p.m.
Sunday, November 11, 7:15 p.m.
Sunday, December 9, 7:15 p.m.
Where: DROM, 85 Avenue A, New York, NY Train F to 2nd Avenue
How: $15/Advance $12. To reserve, call DROM (212) 777-1157 or visit: www.dromNYC.com.
Photo by Glen DiCrocco.