Tim Alexander Performs at the Musical Instrument Museum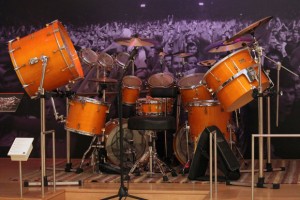 On Sunday, August 12, famed rock drummer Tim Alexander stopped by the Musical Instrument Museum in Phoenix, Arizona to give a rare performance. Alexander's kit (shown here) is on loan and is featured in the museum's new drumset exhibit. Alexander, who is known for his innovative work in bands including Primus, Laundry, Attention Deficit, and A Perfect Circle, used the custom Pork Pie set on the Primus albums Sailing the Seas of Cheese and Pork Soda. Unlike most items on display throughout the museum, this exhibit shows the instrument from the drummer's point of view. During the exhibit opening, Alexander played the drums, provided insight into his career, and answered questions posed by museum guests. This was the first time an artist has stepped into an exhibit to play an instrument on display at MIM.
MIM opened April 24, 2010 and features an expansive collection of instruments from around the world. Guests can explore and experience the rich diversity of the world's music in the 200,000-square-foot building, which includes two floors of galleries, the Music Theater, a classroom, a garden courtyard, the MIM Café and Coffee Shop, and the Museum Store. With nearly 5,000 instruments and objects on display, MIM is organized into five geographical galleries that each focus on a distinct global region. The galleries feature advanced wireless technology and high-resolution video screens, enabling museum guests to see instruments, hear their sounds, and observe them being played in their original settings.
For more information visit www.themim.org.