Steven Adler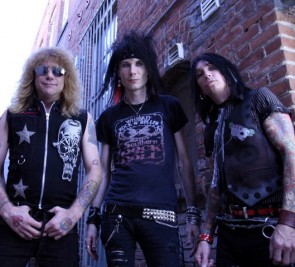 Steven Adler is a larger-than-life personality, radiating childlike glee and an infectious warmth. All it took was a slight nudge from MD, and the former Guns n' Roses drummer was off to the races. Here we present Adler undiluted, as he talks about where he's been and how he got to this point in his career.
Interview by Billy Brennan
The Past
My whole career revolves around love, feel, passion, and believing in myself. I don't know what I'm doing. This is a Modern Drummer interview, but I couldn't tell you what I played here or what I did there. I just know it felt good, like everybody in the world. If you don't like music, you're not alive. Even dead people who are spirits love music.
My biggest inspiration was Roger Taylor—Roger Meddows Taylor—from Queen. He's the greatest. He's just the classiest drummer, the most artistic drummer, the most fearless drummer, the most beautiful drummer. Anybody—or most people—can take their right hand and go 1, 2, 3, 4, and take their right foot and go 1 and 3 and on the snare go 2 and 4. Anybody can do that, but if you can do that and make people feel extraordinarily powerful? Advertisement
I don't know about you, but I can hear certain grooves in music when I'm feeling like I'm a loser, that I'm nothing and I belong in jail. People feel these things for no reason, because we're human and insane—well, I'm insane [laughs]. But when you hear a good groove—not a beat; a drum machine does a beat—but when you hear a groove, a swing, nothing is better. How many times are you driving down the street listening to the radio and an okay song's on, and then all of a sudden you hear a certain song that connects with you. You're tapping your hands on the steering wheel, you're singing out loud, you're playing air guitar…that's real! That's what made me want to play.
I learned to play in parks or in empty warehouses. I would put my Walkman on and go to parks to play. My grandmother gave me an old Gremlin, which was her old car, and I lived in that Gremlin. My drums lived in that Gremlin too, and that was all I gave a shit about.
All I can tell you is, it's all attitude and all belief. Nobody could stand in my way. And I always believed: Do unto others as you want done to you. You can make it all right. The biggest inspiration I learned from my grandmother was that a "please" and a "thank you" and a nice smile will get you far. That's what I learned, and I thank and love my grandmother for it. Advertisement
Present
The hardest part? There is no hard part. I do exactly what I want to do. I love doing what I do. I worked hard, I believed in myself, I paid my dues to be able to do what I do. I go on stage and get to play for people who love the music that I'm playing. Could you ask for anything more?
Well, okay, I can. I get to go on stage, perform music that people love and adore, and then I get to go home and lay on my couch with my dogs and watch cartoons all night. [laughs] That's living the dream.
I was made out to be kicked out of Guns n' Roses. How do you get kicked out of GNR for doing drugs? It just sounded ridiculous. It just happened; you forget where you came from and what's important. I threw something away. I didn't mean to or want to. I was made out to be the super bad guy and I wasn't. But now I'm over it and it's so great. I'm just glad I survived the twenty years to be able to have that feeling in my heart and be okay with it. Advertisement
The first interview I ever did, they asked, "What do you want out of life"? And you know what I said? I said, "I want peace of mind." It's taken forever, and I keep waking up every day as me, and for the first time I can tell you I've got that peace of mind. If Jesus wanted to come and take me away today, I'd be okay.
For more on Steven Adler, go to facebook.com/adlermusic.