Grover Pro Tunable Concert Tambourine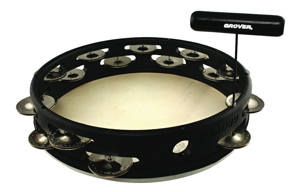 The T2/GS-T tunable concert tambourine offers players who prefer a natural-skin head the ability to maintain consistent tension, regardless of the ambient temperature or humidity. The tambourine utilizes miniature titanium tuning pins, and the tuning mechanism is contained completely within the shell.
In addition to being tunable, the T2/GS-T is easily customizable. The top row of jingles is interchangeable, and packages of eighteen jingles can be purchased separately, in phosphor bronze, beryllium copper, heat-treated copper, heat-treated silver, and brass alloys. The tambourine lists for $275, and the jingle packs are $39.