Clear Channel Announces iHeartRadio Music Festival 2012 Artist Line-Up
Taylor Swift, Aerosmith, Rihanna, Usher, Bon Jovi, Lil Wayne, Green Day, Swedish House Mafia, No Doubt, Brad Paisley, Pitbull, deadmau5, Miranda Lambert, Enrique Iglesias, Linkin Park, Jason Aldean, P!nk, Mary J. Blige, Calvin Harris, Shakira And Other Music Superstars Will Converge On Las Vegas September 21 and 22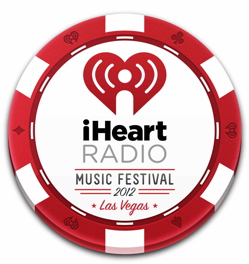 Clear Channel recently announced the artist line-up for the return of the biggest live concert festival in radio history, the iHeartRadio Music Festival 2012 set for September 21 and 22. This year's line-up includes Taylor Swift, Aerosmith, Rihanna, Usher, Bon Jovi, Lil Wayne, Green Day, Swedish House Mafia, No Doubt, Brad Paisley, Pitbull, deadmau5, Miranda Lambert, Enrique Iglesias, Linkin Park, Jason Aldean, P!nk, Mary J. Blige, Calvin Harris, and Shakira with more to be announced in the weeks prior to the event.
For the second year, a diverse array of some of the greatest names in music will appear on one stage over two nights at the MGM Grand in Las Vegas; Ryan Seacrest will kick off the two-day iHeartRadio Music Festival on the evening of Friday, September 21. Advertisement
The inaugural iHeartRadio Music Festival in September 2011 marked the official launch of the new iHeartRadio, Clear Channel's free, digital music service. iHeartRadio delivers instant access to more than 1,000 of the nation's most popular live broadcast and digital-only radio stations from 150 cities, plus user-created Custom Stations inspired by favorite artists and songs.
"The iHeartRadio Music Festival is a unique celebration of music — it's the biggest names in the industry coming together for an impressive weekend of live entertainment," said Ryan Seacrest."The momentum, energy and music experience around the inaugural iHeartRadio Music Festival was incredible, and I'm excited to be a part of this must-see event."
For more details about the iHeartRadio Music Festival 2012 visit: iHeartRadio.com/vegas. Tickets are available via Ticketmaster beginning July 14 at 1 p.m. ET. Sponsors of this year's festival include Amazon Kindle Fire, DISH, Macy's, MGM Resorts International, NBC's "The Voice" and State Farm®.  The iHeartRadio Music Festival is a Clear Channel Media and Entertainment Production. Advertisement
Artists and/or event are subject to change or cancellation without notice.