Zildjian 21″ A Custom 20th Anniversary Ride and 13″ Pocket Hi-Hats
The Avedis Zildjian Company celebrates the twentieth anniversary of its A Custom cymbal line with the launch of a new 21″ Anniversary ride, available in 2012 only. Retaining all of the A Custom series attributes, the new ride features symmetrical hammering, a brilliant finish, and a medium weight, for a balanced sound. The cymbal's loud, penetrating bell is ideal for Latin patterns. To commemorate two decades of the A Custom line, a cream-white logo and special trademark have been added to the cymbal.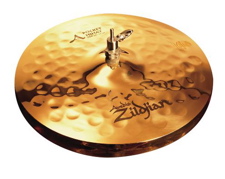 Originally introduced as part of the successful Inspiration Pack for gospel and praise-and-worship drummers, the 13″ A Pocket hi-hats have a thin top and heavy bottom for a crisp, clean sound that's explosive, bright, and quick to decay. Unlathed and featuring large crater-style hammering, these hi-hats make an ideal set for just about any genre, including funk, hip-hop, pop, and rock.