Drum Community Raises Nearly $20,000 For The Family Of Fallen Colleague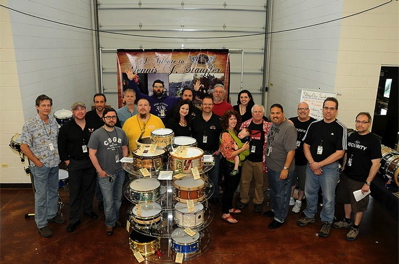 Several major players within the drum industry recently joined forces with the Sweet Relief Musicians Fund to raise nearly $20,000 for the family of pioneering drum builder and designer Dennis Stauffer, who was killed in a car crash in January.
Members of the Ghostnote.net online community of drumbuilders donated an impressive array of custom drums, drum kits, and other items with an estimated value of nearly $30,000 for a drawing and giveaway to honor Stauffer. The Love Your Drums Fundraiser culminated with a special tribute to Dennis Stauffer booth managed by friends and volunteers at the 2012 Chicago Drum Show.
Donors gave at the event and via a special Sweet Relief Musicians Fund website set up weeks before the Drum Show. Donors earned one entry into the drum drawing and giveaway for every $10 donated. More than 500 people made donations totaling $19,250 in person and online between March 20 and May 20. Advertisement
"The Drum Show and fundraiser was truly inspirational. Dennis was a true pioneer and very well liked within the custom drum-building community. I think we all celebrated a bit of his friendship and humor at the Drum Show. The amazing array of items donated looked great on display and showed the impact Dennis made on us. And, most importantly, it helped generate nearly $20,000 for his family," said Jim Feck, owner and founder of DrumART.com, based near Albany, N.Y.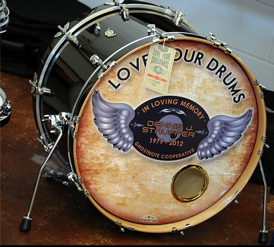 Stauffer, who was founder of Stauffer Percussion and Phattie Drums, was killed in an automobile crash in Fairview, N.C. in mid-January. Stauffer, who was 32, is survived by his wife, Brittney Stauffer, and son Roan, 1. Roan was involved in the crash but was not seriously injured. Both Brittney and Roan, as well as Dennis' father, Dean Stauffer, attended the show and assisted during the giveaway.
The tribute to Dennis Stauffer booth was in the West Hall at the Chicago Drum Show held at the Kane County Fairgrounds in St. Charles, Ill. on May 19 and 20, 2012. See photos of the drums in the booth here, a photo album from the giveaway here. Advertisement
The giveaway and drawing featured nearly 40 snare drums and three full drumkits, including a rare and beautiful complete Ash stave drumkit, a C&C Custom Drums cocktail drumkit, myriad one-ply, stave, segment and ply wood snare drums, and even a number of acrylic and metal snare drums including aluminum and seamless cast bell brass.
All drums, kits and materials were donated by industry sources including many custom drum builders who knew Stauffer through the Ghostnote.net online community of custom drumbuilders. Aquarian Drumheads provided drum heads for many drums built for the initiative.
The Love Your Drums Fundraiser was named after Stauffer's personal and professional motto, "Love Your Drums." The money raised will support the Stauffer family.