Bombastic Meatbats Return With First-Ever Concert Set, "Live Meat And Potatoes"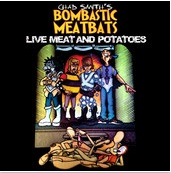 The Bombastic Meatbats, have just issued their first-ever live recording, Live Meat and Potatoes via Marmaduke Records, which is available as both a traditional CD and as a download, via the following links, respectively: marmaduke.jeffkollman.com/ and itunes.apple.com/.
Consisting of drummer Chad Smith, guitarist Jeff Kollman (from Cosmosquad), bassist Kevin Chown (Uncle Kracker, Tarja Turunen), and keyboardist Ed Roth (Coolio and Ronnie Montrose), the band first formed in 2008, and hails from Los Angeles.
The third record in the evolution of the Meatbats sound, Live Meat And Potatoes captures the band in their most natural environment: in front of a live audience in an intimate setting. The band has found its sound after its first two studio releases, Meet the Meatbats and 'More Meat. LIVE is where they shine the brightest, featuring long extended jams that take the audience on a roller coaster ride of funk, rock and experimental madness of all sorts. Advertisement
"This double disc is the perfect representation of the Meatbats," explains Kollman. "The recipe starts with the Chad Smith intangible funk groove along with a memorable melody, some sex chords, a bit of sarcasm, and the bombastic interplay that defines the bats. Plus a bit of the kitchen sink thrown in."
As Kollman hints at, the band has a knack for merging killer chops with humor – as evidenced by such song titles as "Opps! I Spilled My Beer," "Pigsfeet," and "Lobster Legs." Additionally, the cover of Live Meat and Potatoes pays tribute to Kiss' Love Gun album cover. Also, Smith pays homage to one of his top influences, the legendary John Bonham, with a slow and funky cover of "Moby Dick" in a way it's never been heard before.
The group's latest figures to match up to the success of their earlier releases, which debuted in the top-20 of iTunes' jazz chart. Additionally, the group's earlier single, "Shag," was one of the most added songs in jazz radio during 2011, and was featured in the USA Network television series, Covert Affairs. Advertisement
As Chown explains, "It's been interesting watching and experiencing the band evolve. Our challenge was always capturing what we came up with spontaneously in our writing and jam sessions. That's hard to do in a studio environment. In front of an audience, we let it all hang out and have a good time with it. It really captures the band the way WE hear it. Live and on the edge."
For more information, visit: www.facebook.com/bombasticmeatbats.