T.J. Snow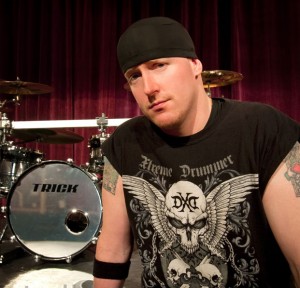 Hello again, Modern Drummer readers, it's been a while since my last blog. Some things have changed since then, the biggest being my departure from CorpuS. It was a great few years with those guys, and we had a good run, as they say. It's always a little sad when a group that has fun making music together decides to hang it up. It's especially tough when you all get along as well as we did. I think we've all been there, though, a time or two.
Since then I've joined another group from the Black Hills called Lost Autumn. They have been doing well the last few years, getting a lot of exposure and radio play from their first album, Exposed. We've all known each other for a while and crossed paths many times in the past. I had always had a respect for their music and the fact that they were trying to play heavier original stuff. It's a hard thing to do in a small market that often turns away from originals in favor of standard cover bands.
The transition to playing for Lost Autumn has been very smooth. It helped that they were also looking for a bass player, and I was able to bring in Mike, who I have jammed with in the past. We jumped right into writing new songs, and quickly had enough good material for an album. The process of jamming and coming up with songs with these guys is almost effortless. Advertisement
We released a single called "New Part of Me," which is getting radio play around the Midwest. The full album will be called A New Endeavor, and it should be out in the next few months. It's been fun drumming for these guys. The parts have been more challenging, and I definitely had to shake some rust off my old legs for some of the double kick parts!
I also have to thank Trick drums, Soultone cymbals, and Los Cabos drumsticks for their support. Recording and playing always seem to go smoother when you have great gear. I wouldn't change a thing about my kit at this point. Take care, everyone, and keep drumming!
For more on T.J. Snow and Lost Autumn, go to their FaceBook or YouTube pages.