Simmons Electronic Drum Fans And Followers Support New Online Museum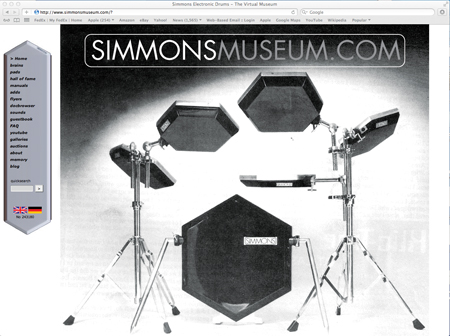 More than thirty years after Simmons electronic drums helped usher in the modern age of electronic drumming with their SDSV electronic drumkit and hexagonal drum pads, Simmons enthusiast, collector, and restoration expert Wolfgang Stoelzle has announced the creation of an online archive of documents, images, sound files, video clips, and other elements from the legendary company's golden age at www.simmonsmuseum.com.
Over the years, Stoelzle has amassed a personal collection of twenty-five full Simmons kits, which he maintains at his home in Germany. According to Stoelzle, his main purpose for building the Simmons Museum site was to document both the history of the company and the fact that so much of the groundbreaking work Simmons did in the 1980s laid the foundation for the explosion of electronic drums, drummers, and drumming that continues today. Stoelzle and many other drum historians maintain that Simmons' SDSV, Suitcase Kit, SDS7, SDS9, SDS1, SDSX, Silicon Mallet, and other innovations were well ahead of their time and directly led to the development of e-drum and percussion instruments from companies like Dynacord, Alesis, KAT, Roland, Two Box, Yamaha, and Pearl.
"Simmonsmuseum.com is 100% non-commercial," Stoelzle says. "I don't trade, I don't sell, and everything I share is for free. The amount of traffic on the site proves that there is still a big awareness of the pioneering contributions that Dave Simmons and the Simmons crew made to the development of electronic drums." Advertisement
Stoelzle and the Simmons Museum have been collecting material for the past few years with the assistance and oversight of former Simmons employees, most significantly English session drummer, early Simmons advocate, and Simmons' American distributor Glyn Thomas.
For more info, go to www.simmonsmuseum.com or contact Wolfgang Stoelzle at info@simmonsmuseum.com.