New Gear For 2012! Highlights From Winter NAMM (N–R)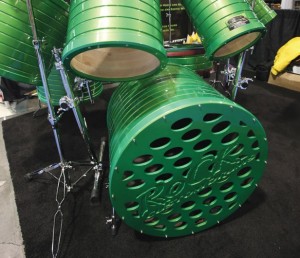 by Billy Brennan
Here are some of the coolest new products coming down the pipeline for 2012, all of which were on display at the annual Winter NAMM Show in Anaheim, California, this past January.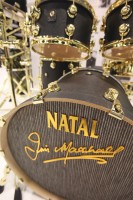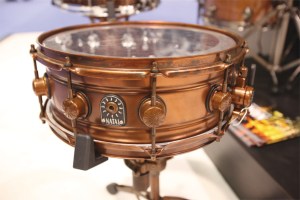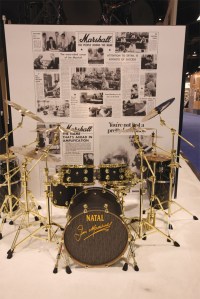 Natal
Natal has added American walnut to its array of wood choices. The company also introduced a new range of snare drums in aluminum, chrome on brass, steel, bronze, and brass, and hand-hammered models are available in copper, dark copper, bronze, old bronze, chrome, and nickel. Stave-shell snare drums are available in ash, maple, and bubinga and are designed to have more resonance than traditional ply snares.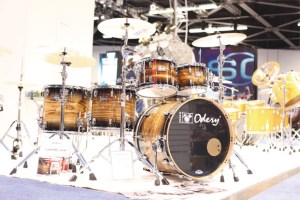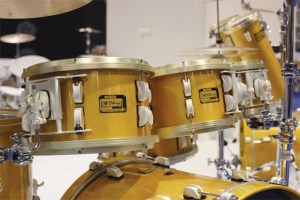 Odery
In addition to showing off its high-end lines, Odery brought out the new cost-effective Fluence series.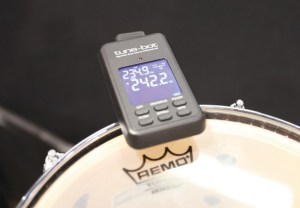 Overtone Labs
This cool device, called Tune-bot, clips to the drum hoop and displays frequencies on a digital screen so you can fine-tune each lug to the exact same pitch.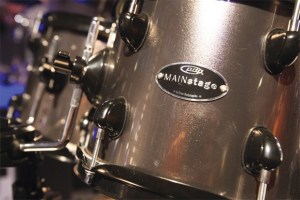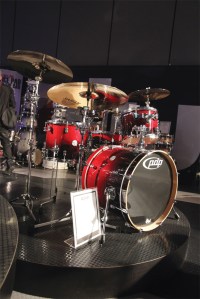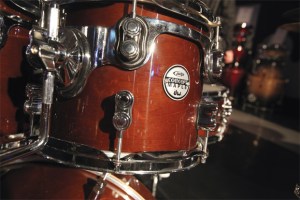 Pacific Drums and Percussion
PDP came out with Concept Maple and Concept Birch drums, which incorporate many possible configurations, from three-piece to seven-piece, under one umbrella.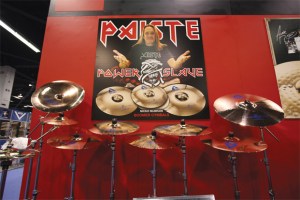 Paiste
Ndugu Chancler's signature 22″ Crisp ride has been added to the Twenty Masters Collection. Nicknamed Rosie after Chancler's mother, the cymbal is brighter than the Twenty Masters Dark cymbals but retains warmth and richness. The top side features a standard finish, while the bottom is sandblasted to dry up the sound without eliminating its wash.
Paiste's Alpha series now features Nicko McBrain's Boomer cymbals, which are designed for rock, hard rock, and heavy metal and can be purchased in the Alpha Boomer Set, which includes 14″ hats, an 18″ crash, a 22″ ride, and a free 12″ splash. Advertisement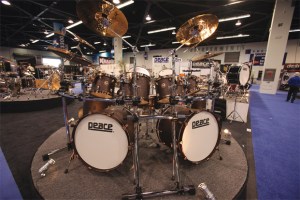 Peace
Peace introduced the Hieroglyphics finish on its 9-ply maple DNA series drumset, with bronze-copper-finish hardware to match. The Kahuna series is now available in 100 percent maple or 100 percent bubinga with a textured fiberglass finish. The series features Peace's new hammer lugs as well as die-cast hoops on each drum.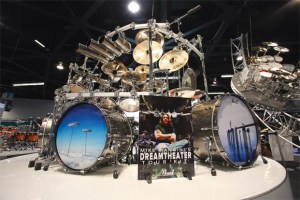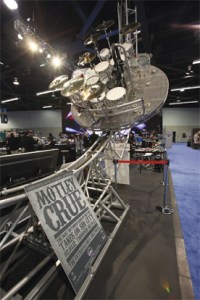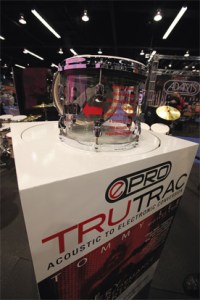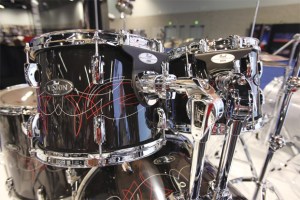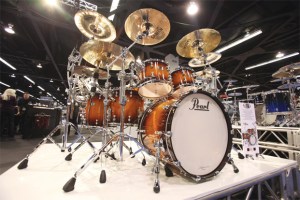 Pearl
The Forum series is now available in Arctic sparkle, and the Vision Artisan is now available with an Old School Pinstripe covering. Vision Birch now comes in granite finish, in honor of the late, great drummer Jeff Porcaro.
The Session Studio Classic features a middle ply of kapur and outer plies of birch. The kit is available in three retro finishes: sheer blue, sequoia red, and piano black. Pearl also introduced the Artisan 2 lacquer on its Masters series, which makes the 100 percent maple shell look like bird's-eye maple. Advertisement
Tru-Trac electronic drumheads can now be purchased individually or in packs. They come with no-drill adapters, cables, longer tension, a template to position the bass drum pad, and a tool to cut it out. Tru-Trac works with any brand of module.
For percussion, Pearl introduced the Cube cajon, which offers a different tone on each side and comes with a two-position stand. New cajon accessories include removable blocks and jingle cups. Pearl also showcased the Richie Flores and Bobby Allende signature lines of congas.
Pearl also had on display Tommy Lee's roller coaster kit from a recent Mötley Crüe tour and Mike Mangini's Dream Theater setup.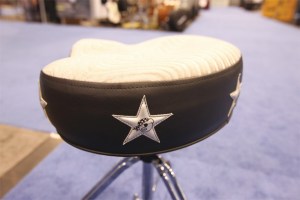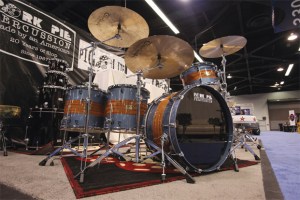 Pork Pie Percussion
Pork Pie displayed several new kits, including a vintage maple/poplar/mahogany set in high-gloss finish with a hybrid outer patina/inner maple snare. Also on the floor was a 10-ply maple kit with a zebrawood veneer, a maple/rosewood setup, and a selection of plush drum thrones. Advertisement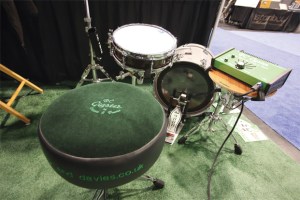 Porter and Davies
The BC2 and BC Gigster tactile transducers allow drummers to feel the low end in their drum sound through their throne.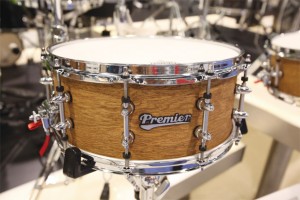 Premier
Premier is starting its British Collection—high-end instruments designed and manufactured exclusively in England—with Aviation series snare drums. Aviation snares have a 21-ply birch core with outer and inner oak plies. They come in three models named after classic WWII planes: the Hurricane (5 3/4×14), Spitfire (6 1/4×14), and Lancaster (7 1/4×14).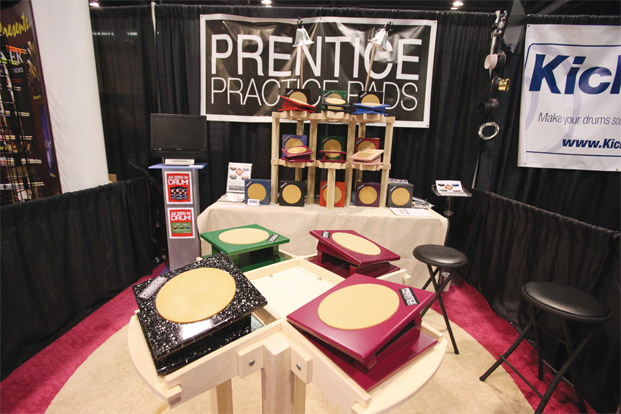 Prentice Practice Pads
Retro-style Prentice practice pads are available with colorful wooden bases.
Profectio Engineering
The Bass Drum Lift is a cradle designed to improve your bass drum tone by eliminating the pressure applied on the hoop by the bass drum pedal.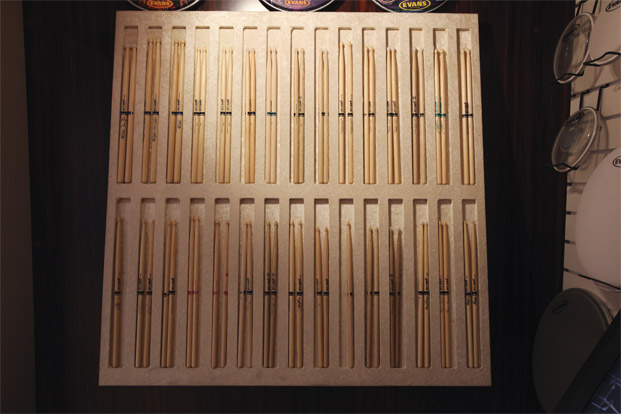 Pro-Mark
Pro-Mark displayed new signature sticks, including the Horacio "El Negro" Hernandez model, which is similar to a traditional 5A with a wider neck and a small ball tip.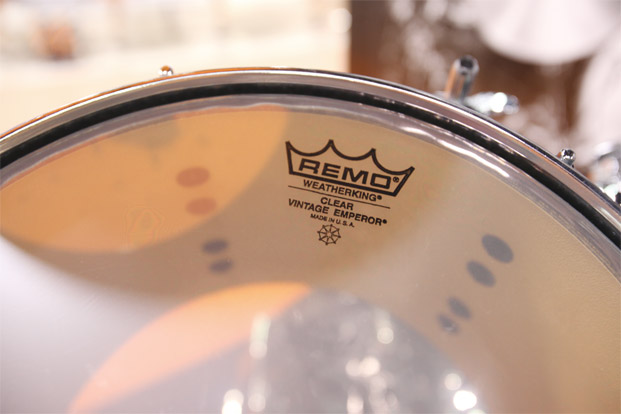 Remo
The Ambassador X14 is a single-ply 14 mil coated snare batter designed for increased midrange punch and extra durability. Clear Vintage Emperors are 2-ply, 7.5 mil tom heads also designed for punch and extra durability.
Rhythm Tech
The Hat Trick G2 and Stick Jingl-er are available with brass and steel jingles.
RimRiser
RimRiser drum attachments make rimclicks easier to execute.
Rock Custom Drums
Here are some very unusual designs from Rock Custom Drums.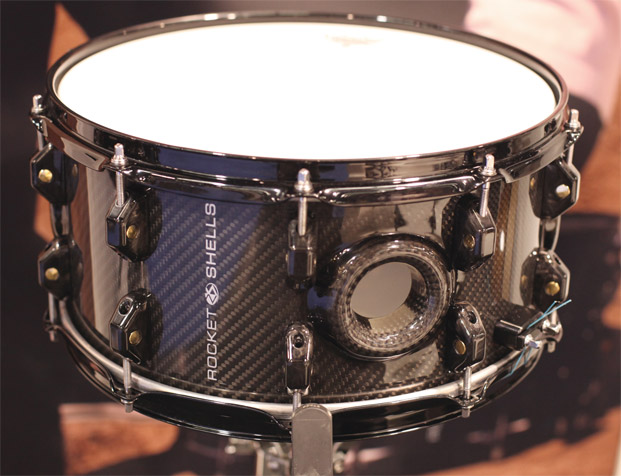 Rocket Shells
Here's a carbon fiber snare with a giant air vent.
Rockett Drum Works
Poison drummer Rikki Rockett builds custom drums with highly detailed custom finishes.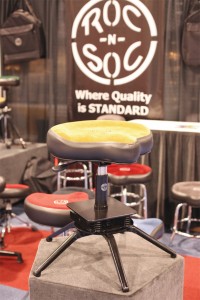 Roc-n-Soc
Nitro and Manual Spindle models can collapse and comfortably fit in Roc-n-Soc's new throne bag. The bag also features a front pocket for the universal backrest.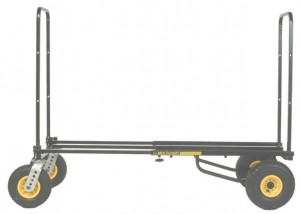 RocknRoller Multi-Cart
The RocknRoller R12 multi-cart is the perfect companion for working drummers who have to load heavy gear into and out of venues each night.
Roland
Roland's high-end TD-30KV and TD-30K V-Drums feature advanced motion sensor technology and behavior modeling to offer the greatest amount of nuance, dynamics, response, and subtlety to a drummer's playing. Advertisement
The TD-30KV comes in metallic gray and black chrome finish and features new V-Hi-Hats, V-Pads, and V-Cymbals with improved triggering. The TD-30K is a more compact version but still features the TD-30 module.
The HD-3 V-Drums Lite is designed to be very playable for all levels of drummers and includes twenty preset kits in an affordable, portable package. The DT-1 Drum Tutor allows V-Drums to connect to a computer for an interactive learning experience from beginner to intermediate. The DT-1 contains sixty preset songs and fifty-seven patterns.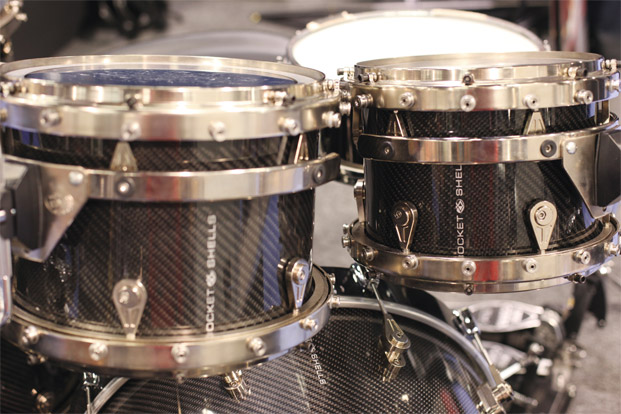 Rotek Drum Systems
Rotek's drum tuning system is designed to efficiently tune any drumhead evenly all the way around. It works via a rotator ring, with wheels that engage on a lightweight aluminum hoop to consistently tune the drum up or down. The system works with any brand of drum and doesn't require a locking mechanism to stay in tune. Advertisement