New Gear For 2012! Highlights From Winter NAMM (E–M)
by Billy Brennan
Here are some of the coolest new products coming down the pipeline for 2012, all of which were on display at the annual Winter NAMM Show in Anaheim, California, this past January.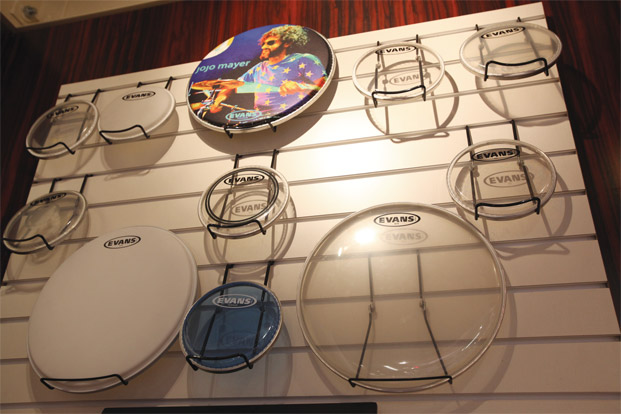 Evans Drumheads
Evans released a new 14 mil single-ply drumhead, the G14.
Farmer Foot Drums
This unusual contraption allows for complete drumset-sounding grooves to be played with the feet.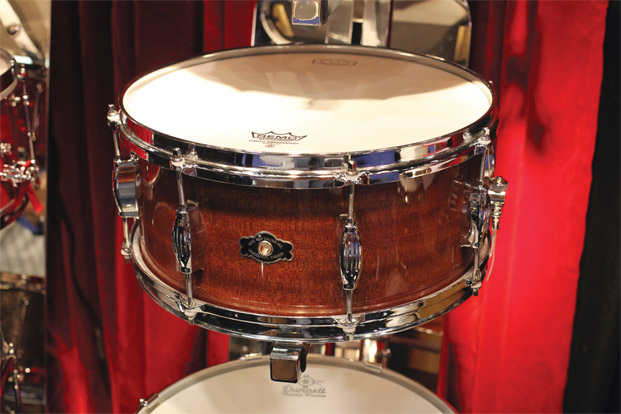 George Way
Way snare drums are now available in mahogany.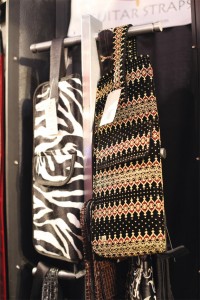 Get'm Get'm Wear
Here are some striking stick bag designs from Get'm Get'm Wear.

Gen16
The Gen16 AE cymbal system has updated firmware for greater sound-sculpting options.
Gibraltar Hardware
This year Gibraltar added an Ultra Adjust boom stand to the Turning Point line. The stand has a 20″-long second-tier tube and a 10″ hideaway boom arm topped with the Swing Nut mounting system. The Swing Nut adapter, the Rocket, allows the Swing Nut to be used on any style or brand of 8 mm cymbal stand. Delmar-wrap Retro-Chic thrones are now available in black diamond and white pearl styles.
GMS Drums
The GMS 25th Anniversary snare drum has a maple shell with nickel-silver sprayed on the outside. It also incorporates the Perimeter Venting System and an inner brass Revolution finish. The first twenty-five drums sold will be serial numbered for each year GMS has been in business. The Super Vintage series drumkit uses rounded-over bearing edges and thinner shells with reinforcement hoops. The Super Vintage is available only in traditional sizes and comes in a retro Duco finish.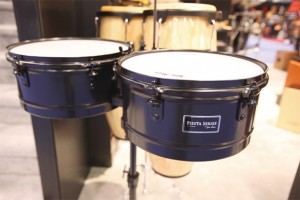 Gon Bops
The Fiesta series comprises entry-level percussion instruments, including the timbales shown here and a new cajon featuring internal steel wires and an adjustable maple front plate.
Gretsch Drums
The idea behind the new Brooklyn series was to have a lower-price-point drumkit made in Gretsch's U.S. factory. For this series, Gretsch developed new 6-ply maple/poplar shells and 3 mm, double-flange 302 hoops. The hoops' thickness emulates die-cast hoops, but the steel construction allows for a more open sound. The Brooklyn series is made with the same process as Gretsch's USA Custom series, from bearing-edge cuts to Silver Sealer lining. Advertisement
Guillaume Carballido Snare Drums
These handmade snare drums employ vertical sound posts, similar to what's used by violin builders.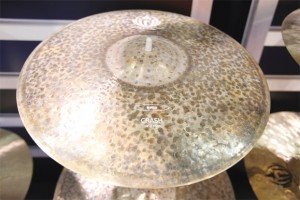 Ibrahim Diril Cymbals
The Hammer XL cymbal has been redesigned to include more numerous but shallower hammer marks to create a more harmonious tone.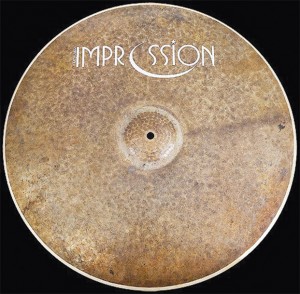 Impression Cymbals
These Turkish-made cymbals come in a variety of models, from dark and smoky to bright and cutting.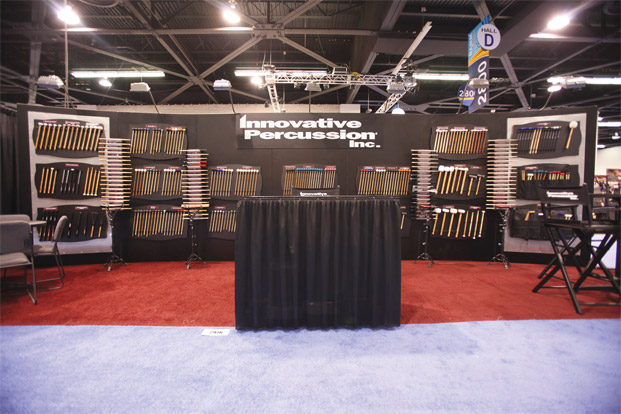 Innovative Percussion
IP released new nylon Broomz, the IP-JZ Big Band drumstick, and the IP-5AM Multi-Stick with a felt ball on the butt end.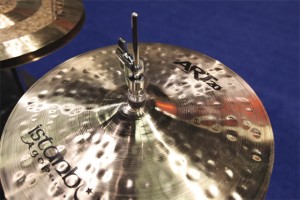 Istanbul Agop Cymbals
Istanbul Agop introduced the new entry-level/intermediate R20 series with the aim of making fast, high-quality cymbals at a low price point.
Istanbul Mehmet
New signature cymbals from Mehmet include the Horacio "El Negro" Hernandez series and the Carmine Appice Realistic Rock series.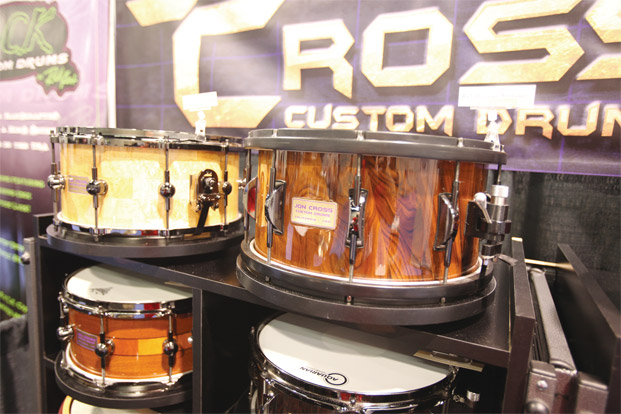 Jon Cross Custom Drums
Jon Cross offers exotic wood snares, including models made with bird's-eye maple, purpleheart, pink ivory, African blackwood, and Bolivian rosewood.
Joyful Noise Drum Company
Joyful Noise's Luminary series features cast-aluminum shells. The company also displayed a beautiful new single-ply drumkit.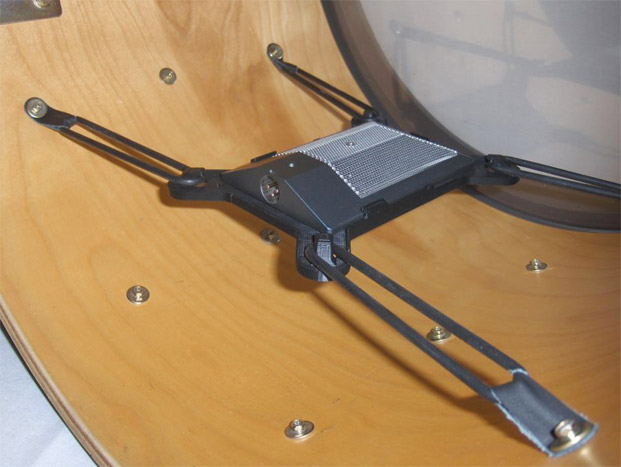 Kelly Concepts
The Kelly SHU Flatz is a suspended, isolation microphone platform for boundary mics. There are three models to accommodate the most popular boundary microphones: one for the Shure SM 91, one for the Shure Beta 91 and Beta 91A, and one for the Sennheiser E901.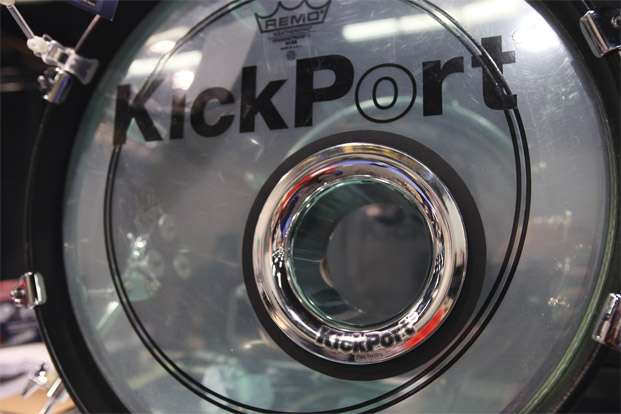 KickPort
The KickPort now comes in gold and chrome colors.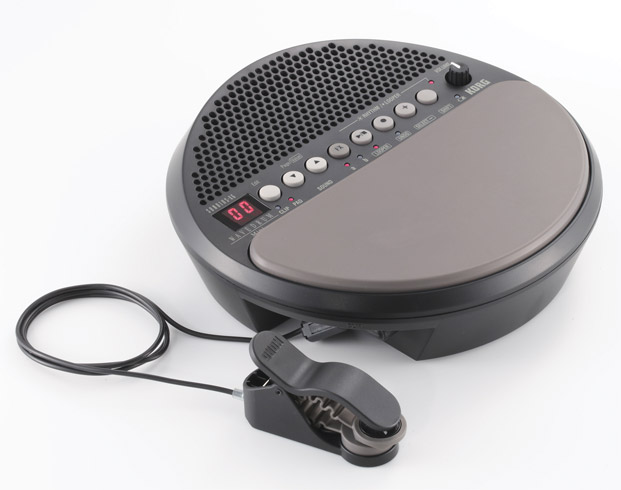 Korg
The Wavedrum Mini is battery powered and features a built-in speaker and sensor clip that allows any playing surface to be sent through the unit's internal sound processor.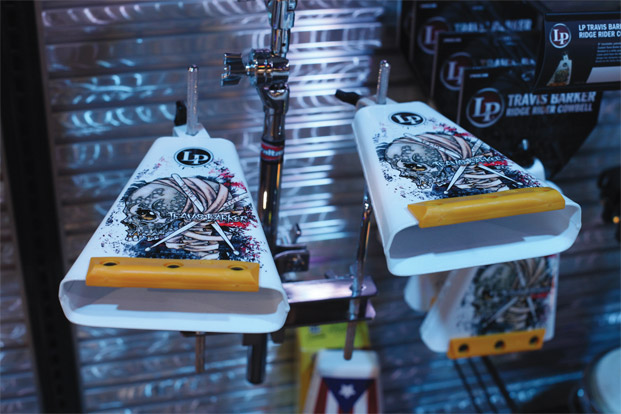 Latin Percussion
Among LP's new offerings are Matador Deep-Shell timbales, the Travis Barker Ridge Rider cowbell (shown), the Jam Tamb hybrid block/tambourine, Twist Shakers that can lock together for one-handed playing, and the Jingle Qube.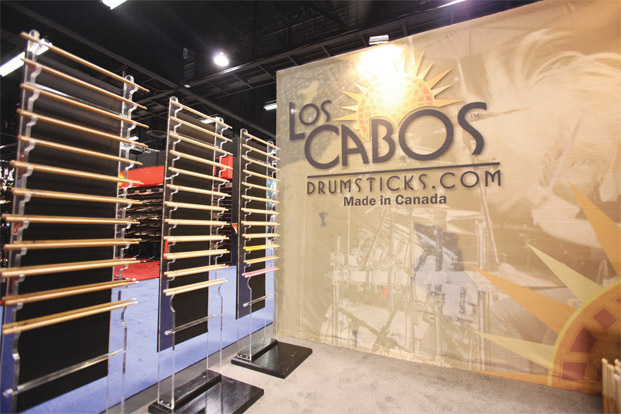 Los Cabos Drumsticks
Los Cabos Drumsticks showcased its new practice pad, as well as the 5A and 5B Red Hickory nylon-tip sticks.
Ludwig Drums
Ludwig has reintroduced the Club Date series. Club Date was originally introduced in the '60s and has dual-center lugs, which help make the drums less expensive without sacrificing any professional features. The Club Date has a cherry shell with gumwood in the center for a warm sound. Ludwig's new Atlas hardware comes in three lines: Standard, Classic, and Pro. Atlas Standard is a budget line, Classic is a modern take on flat-base designs for gigging drummers, and Pro is heavy-duty, tour-ready hardware. Advertisement
Mapex
With the MyDentity program, drummers can build a custom drumset online from a selection of birch or maple shells. They can choose a four-, five-, or six-piece configuration, one of fifty-five cover finishes, and one of eight hardware finishes. The Retrosonic kit is the third in the Black Panther line of drumsets. It features walnut shells for a vintage sound.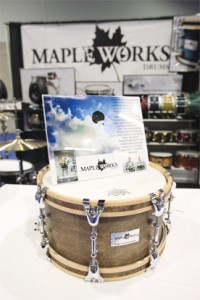 MapleWorks Drums
MapleWorks auctioned off this beautiful snare, which is the exact same model that was reviewed in the February 2012 issue of Modern Drummer.
Mark Drum
These new electronic kits feature mesh heads on the snare and toms and come with a module that has twelve preset drumkit patches.
Matt Nolan Custom Cymbals
Custom cymbal/gong maker Matt Nolan brought out some beautiful bronze cymbals and a creepy skull gong.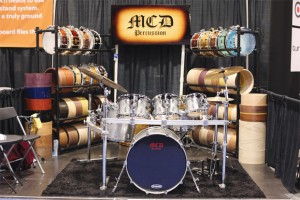 MCD Drums
MCD displayed its new Optimal Sound Series (OSS) kit, which consists of different solid shell types in varying thicknesses.
Meinl Cymbals
The Classics Custom Extreme Metal series is designed for intense drumming styles, while the new Byzance Sand crashes offer a big, dark, trashy sound. Also new is the M-Series Fusion line.
Meinl Percussion
Meinl Percussion introduced more than sixty new items, including the Universal Triangle, which features various textures and thicknesses to produce a range of different playing possibilities; the Multi-Jingle Stick; Maraclaves, a new hybrid instrument; and the Slap-Top cajon. The new Artisan Edition cajons (shown) are handcrafted in Spain. Special add-on instruments are also available. Advertisement