17th Annual Gathering of the Vibes Music Festival Bridges Generations with 2012 Artist Lineup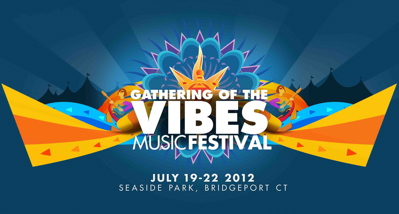 Primus, Phil Lesh & Friends, Bob Weir & Bruce Hornsby with Special Guest Branford Marsalis, Mickey Hart Band, Sound Tribe Sector 9 & The Avett Brothers Set to Perform July 19th – 22nd
Facebook contest gives 130k+fans the power to choose their favorite up & coming
band to perform
Early Bird Tickets Sold Out – Way Advance Ticket Price Extended!
Known as the Northeast's premier music, arts and camping festival, the 17th annual Gathering of the Vibes will deliver a four-day extravaganza featuring a stellar lineup including: Primus, Phil Lesh & Friends, Bob Weir & Bruce Hornsby with special guest Branford Marsalis, Mickey Hart Band, Sound Tribe Sector 9, The Avett Brothers, along with Yonder Mountain String Band, 7 Walkers, The Greyboy Allstars, and Steel Pulse. Vibes favorites Dark Star Orchestra, Zappa Plays Zappa, and Bridgeport's own Deep Banana Blackout will return to the stage in 2012. Over 40 bands will perform on multiple stages located throughout the 370-acre beachfront venue. While early bird tickets have sold out, Way Advance ticket pricing has been extended as a token of thanks to the "Vibe Tribe" for their never ending love of great music and good times.
"The Vibes is a seminal gathering of the tribes, and should be supported by those who spawned it," shared Mickey Hart, founding member of The Grateful Dead.
Continuing its tradition of embracing new, undiscovered artists, Vibes is letting its 130,000 Facebook fans select one up-and-coming band to perform in front of 20,000+ music enthusiasts. Fans are encouraged to vote by June 1st using the Road to the Vibes App and the winner will be announced in early June. Advertisement
"Gathering of the Vibes celebrates the way music allows us to share that which goes beyond words," explained festival founder Ken Hays. "Right now there's a convergence of jam bands, electronica, and rock and roll – bridging the generations and truly making this a festival with something for everyone."
Gathering of the Vibes is an all ages, family friendly event, offering an exclusive Family Camping area, Kids Corner, Teen Scene including interactive programing and a "School of Rock Teen Vibes Stage," featuring musical instruction and jam sessions with Main Stage artists.
Single day and Weekend VIP ticket holders enjoy added perks: expedited entry and rock-star parking with easy in/out access, shaded camping areas along with catered meals, snacks and beverages, air conditioned bathroom trailers, and hot showers. Located stage left on the concert field, the massive VIP hospitality tent and viewing platforms offer exceptional stage sightlines and the opportunity to mix and mingle with artists. Single Day, Weekend, and VIP tickets are on sale now at: www.GOVIBES.com. Advertisement
Seaside Park is easily accessible by public transportation and just 50 miles from Manhattan. Fans traveling from NYC can take Metro North or the Port Jefferson Ferry. Shuttle bus service will transport festival attendees to and from the venue, local area hotels, the ferry, train and bus stations. Discounted hotel accommodations at Vibes preferred hotels are available here.
To watch video of the lineup click here. Follow Gathering of the Vibes on Facebook, Twitter, and Myspace, or check the message boards for the most updated festival information.