New York Jazz Drummer/Leader Pete Zimmer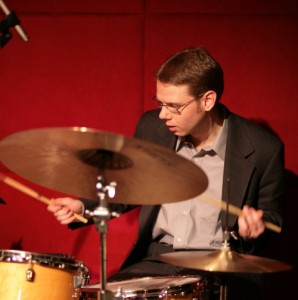 Hey, everybody in the MD community! Pete Zimmer here. I'm a New York City–based drummer, and very happy to have the opportunity to share with you some exciting things currently happening.
I'm pleased to announce that my fifth CD as a leader, Prime of Life, will be released this April 17. This album features six of my original compositions and three originals by saxophone master George Garzone. I'm proud and honored to have George aboard on tenor sax, Peter Bernstein on guitar, and Peter Slavov rounding out the quartet on bass. It really was a dream for me to record with this band, having the caliber of musicianship at such a masterful level. They ate up each tune and did only two or three takes of each. A couple songs were done in just one single take. We nailed it and I could not have asked for a smoother recording session. We completed nine tracks in six hours, and I'm looking forward for the world to hear it!
Prime of Life is going to be released on a label that I founded in 2004, Tippin' Records. Initially I started this label for my own personnel projects, but since 2009 we've started to expand the roster and release other artists' projects. Be sure to check out our website below for some of the best up-and-coming jazz artists of today.
In other news, during a recent tour of the South, I was able to stop in the Memphis Drum Shop. They had me do a couple short videos at www.mycymbal.com website. I demonstrated a gorgeous set of Sabian Vault Artisan cymbals—20″ and 20″ rides and a pair of 14″ hi-hats. The other video was for a Sabian HHX 21″ Groove Ride, which is a cymbal I've been playing in my personnel se-up for the past six years. We really had a good time hanging with Blair and the other cats at the shop in Memphis, and those cymbals sounded killing! You can watch the Groove ride video here www.youtube.com/watch?v=XXj7bS5LQSY and the Artisan cymbals here www.youtube.com/watch?v=MgcSwRQovYs. Advertisement
Lastly, but certainly not least, I'd like to invite everybody to visit my website, where you'll find cool music, videos, photos, and more. Please stay up to date with me at: www.petezimmer.com and www.tippinrecords.com.