New Gear For 2012! Highlights From Winter NAMM (A–D)
by Billy Brennan
Here are some of the coolest new products coming down the pipeline for 2012, all of which were on display at the annual Winter NAMM Show in Anaheim, California, this past January.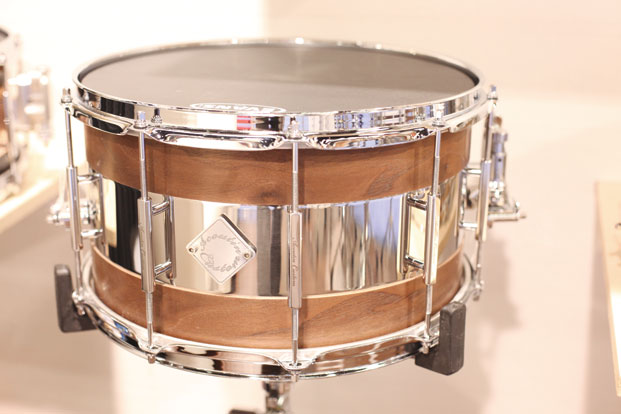 Acoutin Custom
Acoutin snares feature swappable wood edges and metal centers.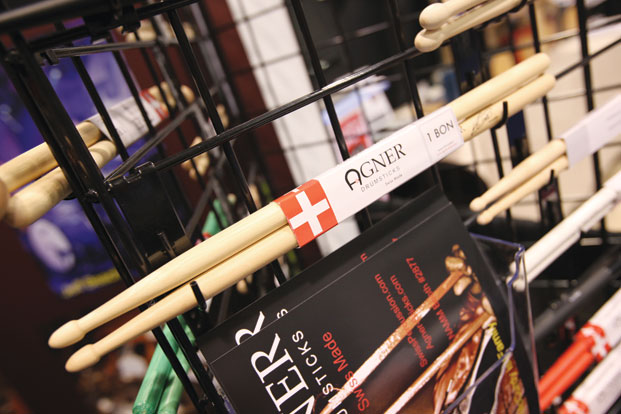 Agner Drumsticks
Swiss-made Agner drumsticks come in a wide variety of shapes and sizes, and the company offers a range of rods, brushes, and mallets.
Alesis
The is the first drum interface for the iPad. It includes thirteen balanced inputs and outputs, a USB MIDI port, and an 1/8″ mix input.
Alesis also displayed the SamplePad, which includes an SD card for users to add their own samples, and launched the DM10 X electronic drumkit. This completely redesigned model has more than 1,000 sample sounds and comes in a six-piece configuration. The DM10 module has a built-in sequencer, a metronome, a mixer, and an arsenal of preset kits. You can also load your own sounds into the module, which works with an iPad via Apple's USB adaptor.

Amedia Cymbals
Amedia is working on an as-yet-unnamed line of new China cymbals that are partially lathed and hammered and are much sturdier than past models.
The company has also introduced effects models (EFX) to the Old School series. These cymbals, which include a 22″ ride and 14″, 16″, and 18″ crashes, are very thin and produce a prominent wobble-wash sound.
The new FX Concept incorporates large holes throughout the cymbals, and an eye-catching EFX square ride has been added to the Dervish series. This cymbal is very thin, with a trashy wash and interesting overtones, but it retains excellent stick articulation. The new Fusion series has intricate lathing and hammering and is available in all sizes of crashes and rides. Advertisement

Anatolian
The new Jazz Collection is made from classic B20 bronze. All Anatolian cymbals are hand hammered.
Ancient Tree Drums
These unique stave-shell drums are built from centuries-old cypress and pine reclaimed from river bottoms in the southern United States.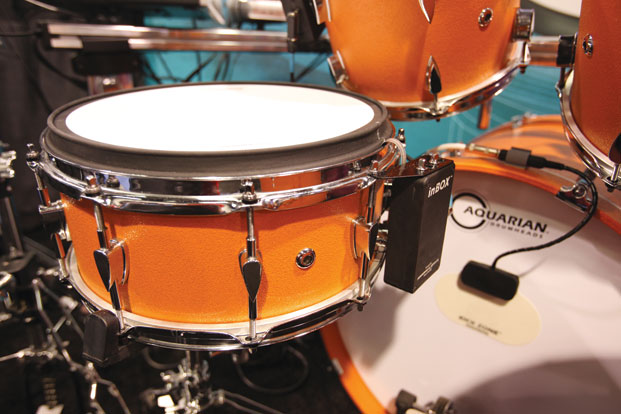 Aquarian
The inHead drumhead—developed in collaboration with MIDItronix—is the first acoustic drumhead that's also an electronic trigger. The trigger in the head uses Force Sensing Resistor (FSR) technology to react to pressure and touch instead of vibration, eliminating false triggering and creating a nuanced natural response. Aquarian also introduced inHead-compatible products such as the Rimshot, which attaches to a drum and can be assigned to be any sound, and the Kickzone bass drum patch/trigger.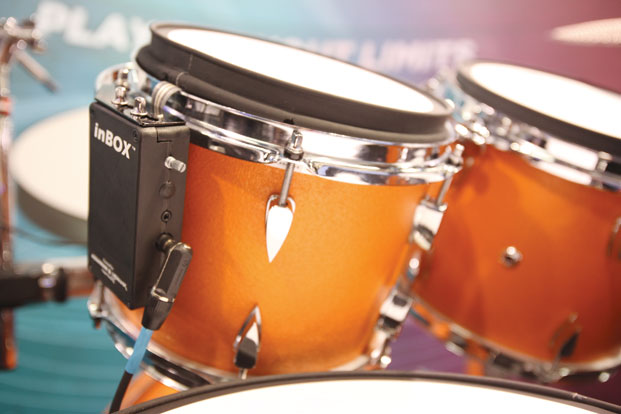 The onHead uses the FSR technology to create a portable pad that allows you to convert your acoustic kit into a quiet electronic kit. The inHead and onHead operate through the inBox module.
For acoustic heads, Aquarian's new "power trio" includes the Triple Threat 3-ply snare batter, Force 10 tom heads (two 10 mil plies), and Super-Kick 10 bass drum heads (also two 10 mil plies). These models offer a great tone without too much ring and are built for durability.
Axis Percussion
Longboards A21 pedals include Axis's new MicroTune spring tensioner, which uses a drum key to adjust the pedals from the top. These models are described as being much more precise than the company's standard assembly, and they have a swivel at the bottom so that they can self-align with less friction. The MicroTune system can retrofit any Axis pedal. Advertisement
Behringer
Behringer is now offering three different electronic drumsets at very affordable price points. The modules include high-quality sounds, as well as USB and MIDI connectivity.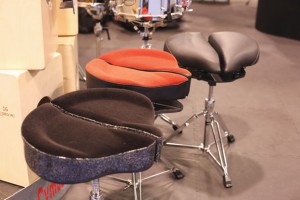 Big Bang Distribution
Big Bang Distribution is celebrating the twentieth anniversary of Ahead drumsticks with a new 5B LTD model. The company also released new gel-filled earphone cushions to retrofit any Metrophones model headphones. Armor Cases are now available for percussion instruments, including conga, cajon, djembe, and bongos. And the new Ahead Spinal G throne is a split-seat, spring-balanced model built for added support and mobility.
Bosphorus Cymbals
Bosphorus has expanded Jeff Hamilton's Hammer series with 19″, 21″, and 24″ crash-rides, as well as a 20″ China cymbal with two rivets. The company is also working on a 24″ ride for the Oracle series, as well as two special world percussion cymbal sets, Latin and Samba, for this year.
Brady
Brady continues to put out some of the finest handcrafted drums in the world. On display were two jarrah drumkits and a wide variety of Australian-timber snares, including new limited Walkabout models. Advertisement
C&C Custom Drums
The centerpiece kit of C&C's booth featured the company's new shell design made of seven plies of luan with rounded-over edges on the toms and snare and 30-degree edges on the bass drum. The shells are manufactured in the company's Gladstone, Missouri, facility.
C&C's retro-style Player Date drumsets are available in Be-Bop (14×20, 8×12, and 14×14) and Big Beat (14×22, 8×13, and 15×16) versions. Both come in either lacquer or silver sparkle finish and can include a 5×14 or 6 1/2×14 snare.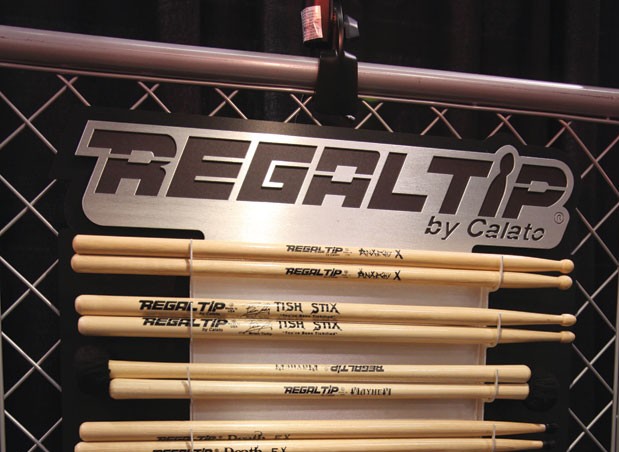 Calato/Regal Tip
Rock journeyman Brian Tichy's "Tish Stix" have a bit of extra length (16.75″) for added power, with an even taper and not-too-heavy weight. Anarchy X is designed for hard-hitting players without being too weighty. It has a gradual taper and a round bead for defined bell playing. The Mayhem mallet has a comfort handle with a soft black head. Advertisement

Canopus
Canopus's new products on display were the new Yaiba ash drumkit and the aluminum snare drum. The 7-ply ash kit comes in "standard" and "classic" configurations. The Yaiba aluminum snare is 5×14, with a 1 mm shell and eight Yaiba lugs.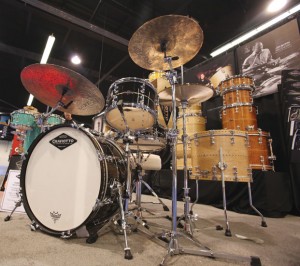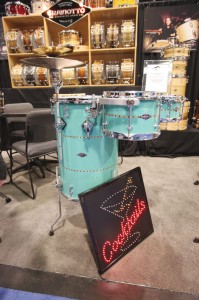 Craviotto
The Jazzette model shown here is a steam-bent solid-maple kit with a 4 1/2×14 snare, 7 1/2×11 rack tom, 13×13 floor tom, and 12×20 bass drum in blackwash lacquer finish. The Highball is a single-ply maple cocktail kit. The main drum is 24×16, the rack tom is 7×10, and the snare is 5×12.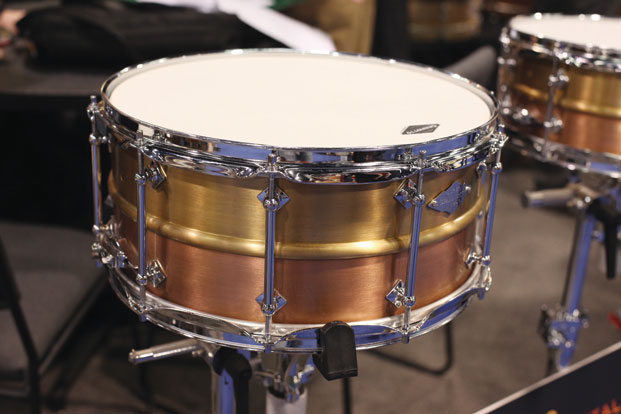 Masters Metal series two-piece brass and copper snares were designed in collaboration with Adrian Kirchler of Italy's AK Drums. The drums come in 5 1/2×14 and 6 1/2×14 sizes, each in a limited run of fifty. Advertisement
Crush Drums and Percussion
The Sublime Tour series now includes an ash and maple kit. The kits have outer and center plies of ash, with two plies of maple on the inside. The limited edition Preserve Mahogany kit is made from African mahogany, with two plies of birch in the center of the toms. The kick is 100 percent mahogany.
Crush is also making 10-ply multi-wood snare drums. Described by the company as "basically two plies of everything that we use," the snares include a model of ash, maple, birch, mahogany, and bubinga (outer to inner) and one with an outer ply of maple.
Cymbal Shield
Cymbal Shield offers a two-step Clean and Shine polishing kit, as well as removable/reusable cymbal rivets.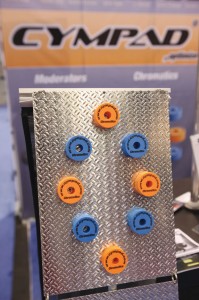 Cympad
Chromatics are colored versions of Cympad's popular foam cymbal washers.
Ddrum
Ddrum's new Paladin line takes the same lug design and hardware as the company's successful Reflex series and brings it to a higher-end kit. Paladin comes in two "vintage blends"—walnut/poplar and maple/poplar—and will have a limited run initially, with four finishes for maple (Inca gold, zombie green, natural maple, and piano black) and two for walnut (ember red and natural walnut). Advertisement
The Journeyman series tackles the intermediate price range, and the Reflex line is now available in a six-piece Natural Alder configuration, as well as the Bombardier, which includes a 15×26 kick. The Reflex and Paladin lines also feature ddrum's bass drum Resolifts on all kicks up to 24″, allowing for greater stability and increased resonance.
DG De Gregorio
DG De Gregorio cajons come in five handcrafted deluxe models and the portable Siroco version.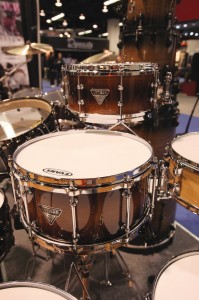 Dixon Drums
Chris Brady collaborated with Dixon for Dixon Artisan Chris Brady snare drums. These are made out of Australian rose gum and come in 5 1/2×14, 6 1/2×14, and 6×13 sizes.
Another new snare is the Artisan Equator, which has an oak shell with a 1 mm steel band on the inside to create a bright, vibrant, and sensitive sound with a wide tuning range.
Dream Cymbals
Several new models have been added to the Dark Matter series, a line made with a proprietary process where each cymbal is tempered and fired twice, with the second round coming after the initial finishing and lathing. The new items are 16″ and 18″ crashes, 14″ hi-hats, 20″ and 22″ Moon rides, and the 24″ Flat Earth ride.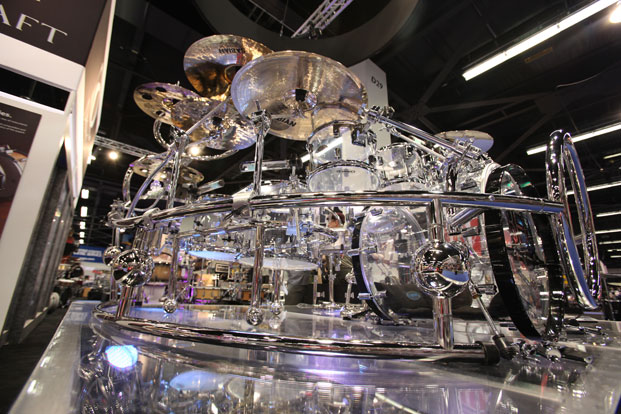 DrumCraft
This flashy acrylic kit was built for new DrumCraft artist Brian Frasier-Moore.
Drum Workshop
Maple and mahogany shells are now available in DW's Collector's series. The shells, which do not feature reinforcement hoops, produce fewer overtones and have a shorter sustain than Jazz series drums. Advertisement
The Collector's series has been expanded with three new snares: the Black Titanium, the black-nickel-over-brass, and the maple mahogany Top Edge.
Duallist
Duallist now has custom pedals such as the American flag footboard pedal on display at NAMM. The company has also introduced new beaters for its pedals, and Duallist Gig Grips secure drumsticks to your middle finger, allowing you to relax your hand and wrist and preventing slippage.
The Dube
The Dube, invented by Dion Dublin, is a cube-shaped percussion instrument with four playable sides. Each side features a different tone, providing for conga-, djembe-, and cajon-like sounds.
Dunnett Classic Drums
Dunnett is introducing its first magnesium-shell snare. The company also showcased a new version of its popular gold-over-titanium model with die-cast hoops, as well as carbon-fiber snares featuring wood veneers that were created in collaboration with Paul Hewitt of Rocket Shells.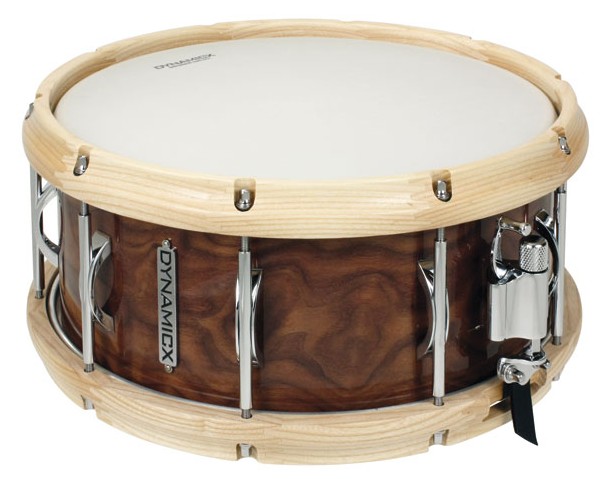 Dynamicx
This drum features a titanium shell with an outer veneer of drape walnut and ash wood hoops.