Drummers, News, News and Events
Live 1999 King's X Release Offered to Fans Who Donate to Jerry Gaskill's Post–Heart Attack Medical Bills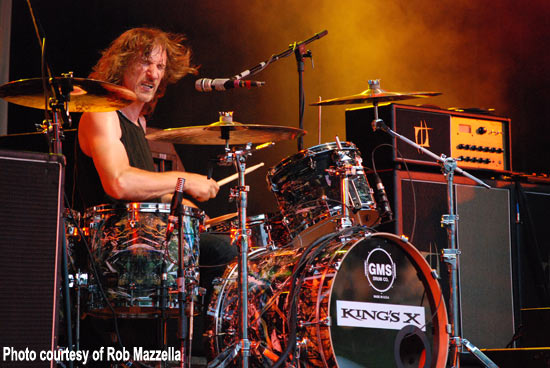 As King's X drummer Jerry Gaskill continues his recovery from a heart attack suffered late last month, King's X are offering a download of a previously unreleased 1991 concert to fans who donate money to help offset the drummer's medical and personal bills.
Available for download via the Molten Music website (click here for full details), Burning Down Boston: Live at The Channel is a ninety-minute, thirteen-song concert recorded at the height of the band's 1990 tour in support of the Faith Hope Love album.
Jerry's medical condition is improving: He is no longer in ICU, but he's still hospitalized battling pneumonia. He can sit up and is showing signs of recovery that have his family and the band encouraged.