Justin Peroff of Eight and a Half: Web Exclusive Interview
With Broken Social Scene going on indefinite hiatus at the end of last year, drummer Justin Peroff has found time to focus his energy on a new project with friends/label mates Dave Hamelin and Liam O'Neil of the Stills, Eight and a Half. MD recently caught up with Justin to talk about the band's self-titled album, which comes out on April 10.
by EJ DeCoske
MD: The song "Scissors" seems to be the first single from the new album. How did that come about?
Justin: "Scissors" is one of our favorite songs on the record. The whole idea for releasing that song to whoever might be listening was the classic "self-leak"—tweet it, Facebook it, put the song out there, see what happens. As it turns out, people responded well to the song, and they responded well to the remixes. Journalists started calling it "the first single," and we didn't necessarily deny that since the response was strong. It was a mild self-generated campaign to raise awareness about the project.
"Go Ego" will actually be the official [first] single. We're aiming for it to be a radio single as well. I feel like those two songs back-to-back are an example of the dynamic that this record has. There are moody songs like "Scissors," and then there's a little more sunshine in songs like "Go Ego," and so on. Advertisement
MD:What was the songwriting process like for the record?
Justin: It was definitely untraditional at times. Half the record was written in a space with the three of us in the flesh jamming like a lot of bands do, but at times we were geographically challenged. I was living in L.A. part-time and/or recording in Chicago with Broken Social Scene, and the other guys were in Montreal or recording in Trenton, Ontario, with the Stills, so when we were not in the same region we would email each other stuff. I did a lot of drum programming on various software, and I would send beats, sketches, and ideas to Dave and Liam via email and they would build on them and send them back to me. I would think of live drum ideas or song parts at home or wherever I was at the time, and then I would make my way to Montreal and we would record or try out these ideas. It was sort of a modern-day Postal Service kind of mentality for a majority of the record, and the other parts were jammed out in person.
MD: The album has a great flow from one song to the next, and it works very well as a complete idea.
Justin: I think it's important for any band to consider the sequence. It's like when an author writes a book and they consider the order of the chapters. Maybe that's a bit of a stretch, but that's how I feel. With any record that I'm a part of, I'm really fastidious over the sequence and track order. It's a journey that you are bringing your listener on. Even in the day and age of the radio single dominating, I like to keep that idea alive. It's important to this band and important to my other band as well.
MD: The record has some amazing production and mixing. Did you guys write with these ideas in mind?
Justin: A lot of those decisions were made in post-production. Dave Hamelin was an integral part of the production, being the main songwriter and the singer in the band. He also does drum sequencing and synth and a whole bunch of stuff. Dave, Liam, and I were all in the room at the same time, but Dave was certainly a huge part of the production. Advertisement
MD: And mixing?
Justin: We had a fellow named John O'Mahoney mix it. He mixed some of the Coldplay stuff, and he mixes all the Metric records. John's a really great guy who's based out of New York, and he did a great job. Dave was there during that process too, but it was John who primarily mixed the record.
MD: What equipment and/or programs do you use to get the unique drum sounds heard on the record?
Justin: I use Reason a lot. It's pretty great. I use Ableton and analog drum machines too. I also enjoy using the Roland SPD-S. The other things I use I would rather not reveal. [laughs]
MD: What is your live setup going to be for your upcoming dates?
Justin: I just got the SPD-SX. It's the newest version of the SPD. It's really dynamic in terms of what it can do, so there will be a lot of triggering happening with that device. I will also be playing a lot of the electronic drum elements on the live kit. We want to make it sound as much like the record as possible, but it's always a good idea, for the crowd and the band, to beef up the record in a live setting. How we were going to reproduce the stuff live wasn't really a concern, but it was definitely something that we had to figure out. This amazing little tool, the SPD-SX, is really saving my ass. There are so many more options now; it's very different from the SPD-S. Advertisement
I play some synth in this band too, so to my right I have a Dave Smith Poly Evolver. It's a beautiful synth—love that thing. My kit itself is my trusty C&C that I've had for years. It sounds amazing. It's got a 20″ kick, a 12″ rack, a 14″ floor, various snare drums, and to my left is the SPD-SX. That's about it for now, but I might introduce some other pads and things to trigger. There's some other stuff that we've been writing, and I think that we are going to have a couple of the newer songs in the live set that might require some other triggers.
MD: Have you made any changes to your drumkit for Eight and a Half?
Justin: The only thing that I've changed from Broken Social Scene to Eight and a Half is my snare sound. I've tuned it down a little, the strainer is a little looser, I put a few extra pieces of tape on there, and I went from a brass snare to a wood snare. I'm going to miss my brass snare, but I'll bring it along just in case I need it for some reason. I should also mention that I'm playing with these beautiful Istanbul cymbals. They're from the Turk series, which is pretty incredible. It's almost like they've been unearthed from the ground and dusted off. They're very moody-sounding cymbals. I'm really happy with those, and the Ohm series as well. Same kind of vibe, really moody cymbals. You can bang them and they can cut through, or you can just tap on them and they're beautiful, moody, and dynamic.
MD: Whether it's with Broken Social Scene or Eight and a Half, you seem to think about rhythms and beats in a creative and unconventional way.
Justin: Thanks, dude. Yeah, it's fun! You sit behind your drums and there are just so many variations on a beat. It's fun to challenge yourself with untraditional beats. With Broken Social Scene these beats are coming from the providers around the beats. The way that group of people communicates through music results in a very specific thing. Advertisement
With Eight and a Half, Dave Hamlin is also a drummer, and I think that helps with the results. I am the primary drummer and beat maker, although Dave does do some of the drum sequencing, and Liam can play drums too. He's kind of a genius—he's actually a piano virtuoso. He's crazy! When you have three rhythmic people communicating through music, that also leads to a very specific result. I guess we're all just a bunch of rhythm junkies.
But it's interesting starting from scratch. Dave and Liam and I have our pedigree, we have the bands that we came from, but this is very much starting from scratch. We are looking forward to playing much smaller venues and anticipating the response to this thing in general. It's equally stressful, but we're taking a positive approach, and we trust our team. We have a great group of people who are working behind this record to hopefully raise awareness. Everything is just a news feed on a blog these days, and I'm a reader of those websites too. It's how I keep in touch with the music world. I claim to understand it, so I hope to design the other side of that. You have to provide that information. You have to provide entertainment for the people to understand and to know what it is that you're doing.
MD: You did the artwork for some of the Broken Social Scene albums. When you're jamming or creating, are there visual artists that influence you?
Justin: That's a good question. I like an L.A. artist named Derek Albeck. I met him when I was living there, and I have a few pieces of his art. In fact, I'm looking at a few of his pieces right now. They live in my place with me. Maybe when I come home and gaze at these pieces, they subliminally influence me, but as far as visual artists that's all I can really consider at the moment. Advertisement
MD: How about drummers?
Justin: Steve Gadd is an obvious choice, but he's the man. Another classic would be Stuart Copeland. I'm sort of a hip-hop guy, so I'm also influenced by the production of J Dilla and what DJ Premier is doing—even the Neptunes. Those guys are pretty incredible beat makers/producers.
I've been almost non-stop listening to a lot of instrumental hip-hop beat makers from Los Angeles on the Brainfeeder label. Brainfeeder is Flying Lotus's label. We got this girl Jennifer Lee, who calls herself TOKiMONSTA, to do one of our remixes. She did an incredible job. Then there's a guy named Teebs, who's a little more ethereal and mellow. There are beats but they are more chimey and pulsing, really awesome stuff. Their style of music and instrumental beat making definitely comes from the whole J Dilla era of hip-hop. What they're doing is a little more futuristic and a little more from outer space, but I've been listening to these guys for the last couple of years every day. I don't know if I'm being influenced by what they're doing but it definitely make me happy.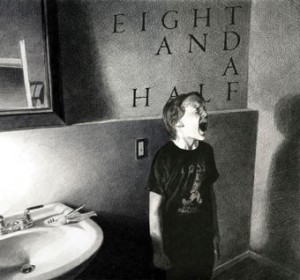 MD: Beyond album art, are you doing any visuals for this project?
Justin: Yeah. I have once again put myself in charge of the art department, because it's definitely something that I enjoy. A friend of mine, again from Los Angeles, Mercedes Helnwein, is a very talented artist, and one of her pieces really captivated me. This was early on, way before we had half the record finished. We only had a few songs recorded at the time, but we had decided that this was going to be a proper project: We were going to tour it, and we were going to finish the whole record. So I said, "Okay, I have this idea for album artwork," even though it was premature. I sent it off to the guys and they loved it, so I called her and she signed off on it. She's also done some artwork for Beck. I designated her and chose a few pieces that will be used for the album artwork and for some of the singles as well. Mercedes is writing the artwork aesthetic for the band and everyone is pretty happy with it. I'm not physically, actually contributing, but the guys trusted me to designate the artwork for this project. I'm pretty happy about that. Advertisement
MD: The album art is great. I thought it was a photograph at first glance.
Justin: She's incredible, man. That's all hand-drawn. I asked if she has subjects, and she told me that for that particular piece there wasn't a subject at all. It just came from her mind and she drew them out. A lot of her stuff is rendered from photographs that she takes of her friends being posed in certain costumes and stuff. If you get a chance you should definitely check out her stuff on her website. She's working with pastel right now, and the results are pretty awesome.
MD: Are you going to be working or recording with anybody else this year?
Justin: No, this is my main focus right now. We have a lot work to do. I got an email recently from a friend who I used to play with, and he sent me some of his demos with the idea of me playing on his record. I'm really into that idea; I just don't have a great deal of time right now. But I'm always making beats and stuff at home, whether it's for me or for other people, or for Eight and a Half. I make music at home daily. It's almost a problem, but it's a good problem to have.
The self-titled debut by Eight and a Half comes out on April 10. For more information about the band go here, or follow them on Twitter. To follow Justin Peroff on Twitter go here.