Jose Rosa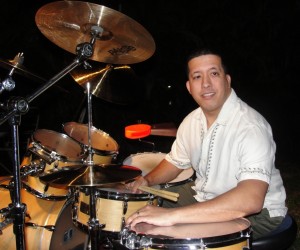 Hello, Modern Drummer readers. My name is Jose Rosa, and I'd like to take this opportunity to introduce myself, tell you about my latest book, The Art of Latin Drumming, and share information about the Contemporary Drums & Percussion Camp.
Throughout my career I have had the opportunity to perform with renowned artists such as Arturo Sandoval, Tito Puente, Marcos Barrientos, Gerson Kelly, Danilo Montero, Mike Orta, steel pan virtuoso Liam Teague, Gregg Bissonette, and many others. Currently I reside in Orlando, Florida, where I perform and also teach percussion on a regular basis. For the past few years I have served as the director of the University of Central Florida's Contemporary Drums and Percussion Camp, which is held every summer in the university's main campus in Orlando.
I have also co-written several instructional books with my longtime friend and colleague Hector "Pocho" Neciosup. My publications include Beyond the Secret Hand/Mas alla de la Mano Secreta, The Contemporary Hand Drummer, and New World Music Reference Guide, and we just released The Art of Latin Drumming. All books are published by Centerstream Publishing and distributed worldwide by Hal Leonard Corporation. I proudly endorse Pearl drums and percussion, Remo drumheads, Pro-Mark drumsticks, Paiste cymbals, Pintech electronics, Triplet drum gloves, OffWorld Percussion practice pads, Cympad, and Cymbag. Advertisement
The Art of Latin Drumming is a bilingual instructional book (English/Spanish) that presents a new systematic approach for playing Afro-Cuban and Latin American rhythms on drums. Designed to help you develop your coordination and independence and to play superimposed rhythms, the book is divided into sixteen weekly lessons, making it perfect for use as a semester course for high school or college, or for self-study. It's loaded with practical exercises plus two CDs packed with patterns and play-alongs, and it's available anywhere Hal Leonard products are sold.
The Contemporary Drums and Percussion Camp is a unique event for drummers and percussionists. In the past it's featured renowned artists such as Horacio "El Negro" Hernandez, Larry Washington, Glen Caruba, Rafael Pereira, and Clayton Cameron. The camp is designed to be an affordable and intimate way for drummers of all levels to have a chance to play with our band, interact with world-class artists, and jam with fellow drummers and percussionists from all around the world. The 2012 edition will feature guest artists Alex Acuña, John Riley, Tony Cintron, Larry Washington, and Ekendra Das.
For more information about the camp, go to  www.contemporarypercussion.com. Also, please visit my website, www.joserosa.net. And to stay updated on the latest postings of free videos and educational articles related to The Art of Latin Drumming, go to theartoflatindrumming.com. Advertisement
God bless you.