Evan Howard of Deadbeat Darling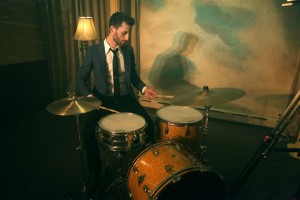 Hey, all Modern Drummer readers! My name is Evan Howard, and I play drums for the NYC band Deadbeat Darling. The group has been spending a lot of time in the U.K. since signing with Spearhavoc Records/William Morris U.K. We recorded our newest album, The Angel's Share (due out April 2), in Wales with legendary producer Ken Nelson (Coldplay, Badly Drawn Boy, the Charlatans), at the amazing Monnow Valley studio. Monnow Valley has an awesome live room, and it was so cool to track drums in the same room that John Bonham and many others played! In the U.K. I play a '60s Camco (black sparkle) kit that sounds really great, while back home I play a '50s WFL (gold sparkle) kit that also rocks. Both kits have a 22″ bass drum, 13″ rack tom, and 16″ floor tom. For a snare I use a Rogers Powertone.
Deadbeat Darling's sound is a mix of post garage indie rock with elements of surf and dub. I love playing drums with this group because I really get a chance to play out, groove in a number of different feels, and also help write and arrange.
We're back out on the road in the U.S. now, on our way to and from SXSW. For any musician, being on tour is always a challenge. You're playing in different clubs every night and both the setup and sound are constantly changing. You really have to be able play consistently and sound your best under a lot of different circumstances. Advertisement
When I'm not playing with Deadbeat Darling, I lead my own group, High and Mighty Brass Band! (HMBB!). Our first album, Round I, was recorded totally live to capture the brass band party vibe. I started the group in NYC, but was inspired from the six years I lived in New Orleans. I wanted to have a group that has the feel of New Orleans music but with a NYC edge.
The other group I play with in NYC is Smoota, who are fronted by David Smith. David plays trombone with TV on the Radio and Sufjan Stevens. In Smoota I play the Roland SPD-S, standing up instead of sitting down. All of the sounds we used for the group were sampled from '70s organs and drum machines. It's a unique project and worth checking out.
I can't forget to give a shout-out to Evans and Pro-Mark for their continued support and sponsorship.
Thanks for reading!
For more on Evan Howard, go to www.deadbeatdarling.com,  www.highandmightybrassband.com, and www.smoota.com. Watch the video for Deadbeat Darling's "Surf India," here http://www.youtube.com/watch?v=ws9bXqYK1ig. Round I by High and Mighty Brass Band! is available here. http://itunes.apple.com/us/album/round-i/id387456511 Advertisement