Tony Wolski of Old Gods and the Armed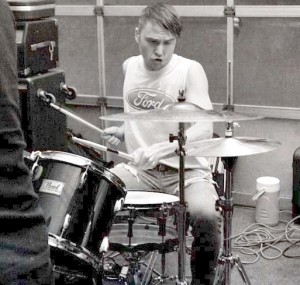 Hello MD community! My name is Tony and I play drums in two bands from Detroit, Old Gods and the Armed. This is my first time contributing to the MD blog (or any blog) so, uh, here we go!
As I write this, I'm waiting for my bandmates in Old Gods to pick me up. We're heading out to Lansing (which is Michigan's capital…the more you know) to play a one-off show with our friends in Wilson. Even though it's not that far, it's snowing heavily right now and I'm not looking forward to the drive. The guys are, at this point, twenty minutes late. I'll try to write as much here as I can before they arrive.
Both Old Gods and the Armed are of the punk/hardcore variety. The Armed is a bit nutty and Old Gods is a bit more heavy and straightforward. The Armed recently released the EP Young & Beautiful, which I am very proud of. A big drumming highlight on that record is that one of my good friends and biggest drumming heroes, Chris Pennie (ex-Dillinger Escape Plan, Coheed and Cambria) guested on a track called "Mujahoudini." It was extremely fun to collaborate with someone that has been so influential to my playing. You can download the record (and all of our releases) for free at thearmed.com. Old Gods just put out our debut EP over the summer too. It was recorded almost wholly live at Chris Koltay's Hibias Studio in Detroit. You can hear that on our bandcamp page http://oldgods.bandcamp.com.
The guys are still not here, so let's talk some more. I'm twenty-six years old and I've played drums since I was ten. I learned by playing in band, orchestra, jazz band, marching band, pit orchestra, and anything else they offered in school and started taking real lessons at around sixteen or seventeen. When I got older, I focused on art and design in college, but I continued to both give and take lessons and travel to study with people. Having a somewhat formal background in music definitely informs the writing process, but most of that goes out the window when it comes down to playing live in Old Gods or the Armed. Honestly, I'm just trying to play everything as loud and hard as humanly possible. I'm not thinking about technique or posture. I try to go as nuts as I can while still performing something resembling the parts I play on the records. After all, it's hardcore music, not Radiohead. If you wanna hear it all nice, listen to the record. Live, I'm gonna try to crush all of my gear and play as fast and/or hard as I can. Advertisement
That's a nice segue into gear, so I'm gonna talk about that now. On recordings I like to play on my friend Chris Koltay's really beautiful Premier Genista kit (22″/12″/16″). Chris also got me into Istanbul cymbals in the studio. On the last few recordings I've done I've used 15″ Cindy Blackman hats, a 24″ Joey Waronker ride, and a 20″ medium traditional crash. Amazing sounds.
Live is another story. Anyone who has seen either band knows the stage tends to become a war zone, so I piece together some semblance of a working kit that's solely for live performance. When you're playing basements, squats, art spaces, and what have you, tone comes second to durability and what you're not afraid to see destroyed. Tonight I'll be playing an old Pearl Prestige Session Select 22″ bass drum (custom with what I call a 13″ "sound-maximizer crack" horizontally across the shell from being jumped off of and on occasion hurled off stage…this shell is trashed but it still sounds pretty great), a 14″ rack tom of the same make and model (no sound-maximizer crack), a mid-'70s Slingerland 18″ floor tom, and an inexpensive 14″ acrylic Pork Pie snare. With cymbals I tend to be pickier because I think you can hear bad cymbals in any venue and I think it totally neuters the impact of a heavy band when the drummer is playing garbage-sounding cymbals. So I play mostly very large Zildjian Ks because they still sound amazing and most of the normal K series is extremely durable. My favorite new addition is my 21″ K crash/ride. That thing is an absolute beast. My only other substantial piece of gear is my DW 9000 double pedal, which is the most super smooth-while-still-actually-playable pedal I've ever owned.
Well, I just got the call and they're ten minutes out. Roads are a mess. Awesome. Thanks to everyone who made it down here to the bottom of the page with me. It was quite a journey. Keep an eye out, 2012 will see new records from both bands, and hopefully I'll be back to tell you about them. Until next time! Advertisement
For more on Tony Wolski, go to thearmed.com http://thearmed.com or http://oldgods.bandcamp.com.