Shawn Bowen of Didges Christ SuperDrum and World Collision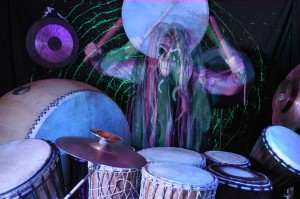 Hello, fellow time manipulators! I am truly honored to be given the opportunity to write this blog and to communicate with all of you! First, a little bit about my history and experience in the music industry.
I'm a multi-instrumentalist. I began my career as a guitarist, being drawn to music and listening to Kiss and Sabbath records already at eight years old. The first instrument I obtained was somehow a snare drum. My mom was like, "Yeaaaaaah…how about acoustic guitar? Or even an electric one with a volume knob"? Hahahaha. But she was still the one who let my band practice in our basement, so I still got to start playing drums by age fifteen—thanks, Mom!
I relocated myself to Florida and joined the band Neurotica with front man Kelly Shaefer of the amazing tech-metal pioneers Atheist. We were fortunate enough to be "discovered" by Brian Johnson of AC/DC, who lives here in Sarasota, Florida, where I am based. Brian produced our first album, Seed, and even gave us a song he had written called "Deadly Sin." He sang backups on it too! THAT was an amazing experience.
I can't say enough good things about Brian. Aside from being a cool dude and a huge iconic rock star, he's a really great person. He recently arranged for a music room at our local hospital, for kids who are stuck there for long stays. It has drums, guitar, bass, keyboards, P.A.—everything so that kids can jam out. What an awesome way to give back! Having him produce us was a dream come true to say the least. I grew up listening to all the AC/DC albums, and hearing him say, "Foogin greott, laddds!" through the headphones will never leave my memories, nor will him putting on a baseball cap so he could walk to the store with us to buy beers without being recognized—hahaha!
Anyways, with our second album, we somehow managed to get mixed up with the WWE (?!). Yeah, wrestling—I know! Saying it out loud makes me want to go take a bath. But I survived, and it did lead to us getting to do a whole Ozzfest tour, which was another great chapter in my career. But eventually, due to a lot of factors, the band fell apart and broke up.
In the aftermath I opened a small music store inside my friend's shop, and specialized in any kind of unusual instruments I could find, having been turned on to world music and to drum circles. I built up a huge collection of drums and instruments and a great recording studio setup to capture it all, and I set about releasing my new music independently. I actually make some money at it now. The "big record deal" just left me broke. Yeah, the tour buses were a lot of fun, but I'd rather drive my van and pocket some money, thanks.
There is a huge regular drum circle here on Siesta Key that has been going steadily every Sunday for close to twenty years now, and I have been attending it for at least fifteen myself. It's a great way to practice your chops, build up your endurance, and jam with others—and just to have a great time playing music with a lot of people on the beach at sunset. If you are ever here for vacation, be sure to attend and bring a drum, or email me and I'll bring a loaner!
In a big public drum circle it's hard play in odd time signatures, or have changes without throwing off the beginning drummers—which kinda ruins the point of coming together for the circle. But it's really cool to apply the sound to more structured songs. That sound and vibe has greatly influenced the sound of my new projects: World Collision, and especially my most recent endeavor, Didges Christ SuperDrum. In W.C. I play mainly various stringed instruments, but I still see them basically as string-drums, especially the hammered dulcimer, which I love to play!
Didges Christ SuperDrum was started by myself and acclaimed didgeridoo player Jeremy Lembo. The D.C.S.D. idea is raw tribal drumming and percussion mixed with Jeremy's innovative didgeridoo style, but played with hard rock energy and arrangements. I think we've really created a fresh, original sound. On the first album I play taiko, djun djuns, djembe, doumbek, udu, water drum, balaphone, and various other percussion items. As Stewart Copeland said, I have a "world of widgets to whack on." I cannot wait to do the next album this year, having seriously upgraded my studio since the last one. I've also started experimenting with Korg Wave Drums, which are AWESOME.
Our live performances feature interpretive dance and theatrical costumes, projection, blacklight, and eerie witch-doctor freak-show fun, plus various other drummers and musicians. We plan to tour with the project eventually; I have been especially planting seeds in Europe. The original self-titled CD is instrumental, and I played all the drums, but the new stuff has various vocalists including myself, Kelly Shaefer, and Julia Simms (SuperBot). We played at ZombiCon 2011 in Ft. Myers, Florida, for 20,000 people, mostly in zombie make-up! It was awesome walking through the crowd with my Didges Christ costume on and seeing zombies get scared when they saw me—hahaha!
You can see the newest Didges Christ SuperDrum video for the song "Finding Our Way Back OM" here. www.youtube.com/watch?v=xnYNQ_SRr2g And you can see the newest World Collision video, for the song "Sine," here. www.youtube.com/watch?v=1gxpmMp8Ljg
I have also done a good amount of studio work for prog-rock band Cryptic Vision, as well as some film scoring and music for horse dressage (oddly enough). And as I mentioned, I have a huge collection of instruments and a cutting-edge studio to record them with, and I'm always up for collaborations. Feel free to contact me at obishawnkenobi@worldcollision.com.
Thank you to all at Modern Drummer for bestowing this honor on me, I probably belong more in Modern Primitive Drummer, but since it doesn't exist, thank you for the opportunity to share my experience here! And thank you to my fellow rhythm-obsessed people for taking the time to read this, and check out my art! Best of wishes with your endeavors too.
Fore more on Didges Christ SuperDrum, check out their FaceBook page. D.C.S.D. www.facebook.com/pages/Didges-Christ-SuperDrum/160224627353322?ref=ts For more on World Collision, check out their FaceBook page. www.facebook.com/pages/WORLD-COLLISION/154915432664?ref=ts