Michael Vafiotis of 4ARM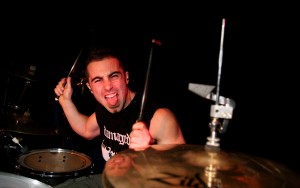 Hey there, MD readers, my name is Michael Vafiotis, or, as I'm better known, "Juice." I currently play drums for the metal band 4ARM. Over the last year I've spent most of my time recording and preparing for the release of our third album, Submission For Liberty.
For those who know little or nothing about me, I thought I'd share with you some background about my musical career. I was born and raised in Melbourne, Australia, and I started playing drums at around the age of fourteen. I got my first kit from my parents, insisting that I upgrade from the pots and pans I was stealing from in the kitchen. After quickly outgrowing such an entry-level kit, it didn't take me long before I got my hands on a real kit and began a serious journey into drumming. Heavily influenced by the sounds coming out of the Bay Area at the time, I quickly aspired to become a drummer in a metal band like some of my idols. In 2004, after numerous unsuccessful attempts in previous bands, I formed 4ARM, adopting a hard, heavy, and aggressive style, perhaps best described as modern-day thrash metal.
With two albums under our belt, we signed with Rising Records and are now set to release Submission For Liberty, undoubtedly our finest work to date. Over the last couple of years we have toured extensively across the country, including major tours with acts such as Testament, and most recently, Destruction. Advertisement
Having always been a hard-hitting player and aggressive in my musical approach, inspired by such great players as Dave Lombardo, Paul Bostaph, Lars Ulrich, and John Tempesta, I am quite often asked how I can sustain such intensity at each show. Basically, the kind of music I play demands a great deal of stamina. The key to building and maintaining my stamina for a show is to run regularly and resistance-train four or five times a week.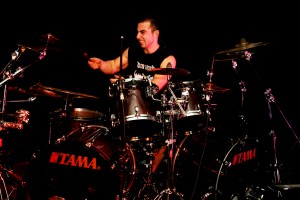 Okay, so here's a little bit about the gear I use. I currently am a proud endorser of Tama drums, Zildjian cymbals, and Ahead drumsticks. I have been playing Tama drums for over fifteen years now and must say they are my only choice for drums. My setup includes a Tama Starclassic Maple eight-piece kit in Cherry Black with my choice, depending on the venue or purpose (live or studio), of either the Diamond Plate snare or the Warlord snare. I use a combination of A Custom and Z Custom cymbals as well as an Oriental China to mix things up a little. I have been using Ahead sticks for many years now, and given the amount of abuse they tolerate, what can I say—how damn durable are they?!
In upcoming news: I will be touring Australia with 4ARM in March as part of the album-launch tour. What really excites me right now, though, is the tour of the U.S. scheduled for July—super pumped about the chance to branch out to the international market. We will be covering mainly the West Coast through to Texas, performing some twenty shows along the way. Advertisement
I will also be releasing some new drum-cam footage of one of the tracks from the new album, which will be available via 4ARM's YouTube channel. There you can view our latest film clip for the title track as well as previous clips.
Hope to see some of you Australian and American metal heads on tour soon. :)-
For more on Michael Vafiotis and 4ARM, go to www.4arm.net, www.facebook.com/4armofficial, or www.youtube.com/4armofficialscars.