Buddy Rich 25th Anniversary Memorial Concert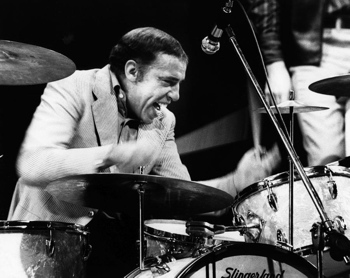 The Buddy Rich 25th Anniversary Memorial Concert takes place for the first time in the UK at the London Palladium on 2nd April 2012. The  lineup is confirmed as Dave Weckl,  John Blackwell and Gregg Potter from the USA and Ian Paice, Ginger Baker, Gavin Harrison and Elliott Henshaw from the UK. Singing supremo Tony Christie will also appear.
One of Buddy Rich's last requests to his daughter, Cathy, was to keep his band working, his music alive, and to do something for young people. Cathy decided that an annual memorial concert seemed the way to go. The first sellout memorial concert was in 1988 at Carnegie Hall in New York. Since then, shows have followed in Los Angeles, Las Vegas and Boston with the who's who of the drumming world taking part. Artists to grace the stage in previous years have included Mel Tormé, Joe Williams, Stan Getz, Steve Gadd, Dave Weckl, Vinnie Colaiuta and Dennis Chambers.
This year, on the  25th anniversary of Buddy's death, it is the turn of the London Palladium to host this event. The show, co-hosted by Cathy herself, features the US-based Buddy Rich Big Band supported by UK session musicians who used to play with Buddy. Cathy will also present Lifetime Achievement Awards to three rock drumming legends. Advertisement
On his involvement, the highly-respected Dave Weckl said, "anytime I get to pay tribute to one of the greatest players of our instrument, I am first in line. To be able to play with a great Big Band and play songs from the Buddy Rich book is one of my favourite things to do as a drummer." Joining Dave Weckl are John Blackwell, currently playing with Prince; and Gregg Potter from the Buddy Rich Big Band. From the UK, Deep Purple's distinguished drummer, Ian Paice; the renowned Cream drummer, Ginger Baker; respected session drummer Gavin Harrison; and Elliott Henshaw, veteran of over 20 West End shows and drummer for Tony Christie.
Tickets are available from the Box Office 0844.412.4657 or online at www.seetickets.com and are priced from £25 to £60. VIP tickets are available on a strictly limited basis. They include the best seats in the house, an opportunity to meet the headline artists, admission to the after-show party and signed merchandise.