Zoro Interviewed On Fox News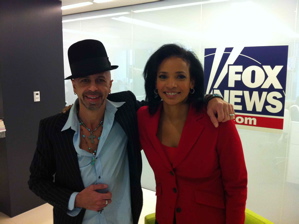 In case you missed it, Zoro was interviewed by Lauren Green on Fox News from their headquarters in New York about his new book, The Big Gig: Big-Picture Thinking For Success. Fox has posted a four-minute version on their website (see below).
In other news about his new book, it has gone into second printing within one month of its release—a record for Alfred Publishing. If you haven't seen it yet, check it out at Barnes & Noble, Best Buy, Guitar Center, and Amazon.
Keep up with Zoro by following him on all of the social media: TheBigGigBook.com, Zorothedrummer.com, Zoroministries.org, Facebook.com/zorothedrummermusic, Twitter.com/zorothedrummer.
(Pictured: Zoro with Fox News' Lauren Green)