Drummers, On the Beat
Marcus James of Super Prime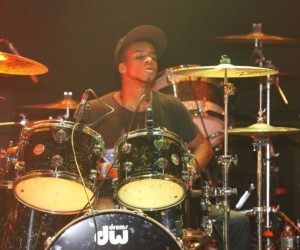 Hello, MD readers! Originally I started out as a piano player, which is a good starter instrument for anyone trying to play music. Rhythms always came naturally to me, but so did melodies, so I was torn between instruments. Obviously I picked the drums. I am a self-taught drummer that started out playing in my high school jazz band in the eighth grade. Being from Newark, New Jersey, made it rather difficult to be exposed to lots of different music outside of hip-hop, R&B, and gospel. I had heard punk rock for the first time during a special-project phase in my school called Project Manhattan. We explored a lot of bands in the underground punk scene from around the '80s. After I heard the energy that this type of music displayed, I was sold.
A few years later, in the summer of 2011, I was introduced to Super Prime. Influenced highly by Blink-182 and Fallout Boy, this band strives to make good music with cool-sounding drums and riffs. I have a lot of fun with this because I feel like a drumbeat really defines songs in this genre. What you choose to play changes the way a song is perceived. For example, in our song "Discovering the Anti-Rad," it wouldn't have the same impact as it does without the specifically chosen drum parts. A simple beat would do no justice. Of course, I might be a little biased as a drummer, but our whole band is a rhythm section, so we think on the same page.
I currently attend Berklee College of Music. My progress since being there differs from year to year. My first year was dedicated to learning the linear patterns and chops of gospel drumming. That was the biggest thing going on during that year, and my biggest influence was drummer David Callaham. He's from Washington, D.C., so the go-go style was a big influence on those types of chops. Now I just want to focus on bringing many styles into this genre and perfecting a sound for myself so that when you here it, people will say, "That sounds like Marcus James." I think that the biggest change in Super Prime's future sound will be me incorporating some of these other drum styles into the already driving music that we're writing, so look forward to that.
Photo by Michael Benabib. For more on Marcus James and Super Prime, go to super-prime.com. http://super-prime.com