Updated! Matt Chamberlain on the Making of a Career in the Studio
by Michael Dawson
Session ace Matt Chamberlain has played on dozens of hit records since first bursting into the limelight with the Texas-based singer-songwriter Edie Brickell in 1991. In his January 2012 Modern Drummer cover story, we dig deep with the drummer into the mentality of what it takes to be one of the most in-demand session players of the past twenty years. Here we asked Chamberlain to comment on some of the things he learned from making a few landmark records during his illustrious session career.
Edie Brickel and the New Bohemians Ghost of a Dog (1991)
This was the first "real" record I ever did. We went up to Woodstock to Bearsville Studios. We rehearsed for two weeks in a barn beside the studio, and then we went to the main studio for ten days to track. We had just gotten off the road from touring for a couple years, so this record was more about just getting in there and playing. I didn't know anything about recording, so I just tuned my drums to where they sounded good. The producer, Tony Berg, had a piccolo Noble & Cooley snare drum that I thought was the coolest thing ever, so I used it for most of the record.
I was twenty-one and was deep into Manu Katché and Stewart Copeland. I didn't really have a voice yet. I just wanted to play some killin' drums.
I had a late-'80s DW kit with a 22″ kick, 8″, 10″, and 12″ rack toms, and 16″ and 18″ floor toms, and I had splash cymbals, a China… We had made some money, so I was like, I'm going to buy some drums. [laughs] Advertisement
What I learned from doing that album was that the guys who do records all the time have an incredible amount of focus. I remember thinking, How do guys get these grooves and feels going? And how do they get these sounds? The whole thing was fascinating to me.
Critters Buggin' Guest (1994)
After Edie's band broke up, I toured with Pearl Jam for a little bit, but then I got offered to play drums on Saturday Night Live. I wanted to move to New York, take some lessons, and really get into playing, so I took that gig. But New York wasn't exactly what I thought it would be, so I ended up moving to Seattle because during the time I was with Pearl Jam, I loved it out there. I had a four-track, so I started messing around with playing guitar and bass. I gave a demo tape to Stone [Gossard] from Pearl Jam. At the time he had just built a studio in his basement, so we were his guinea pigs. We just went in and improvised and used some of the stuff that I had written. I had some buddies in town—this guy Skerik who plays sax through a guitar rig and Brad Houser, who was the bass player with the New Bohemians. It was one of those things where we were like, Let's just improvise and then edit the stuff into something, and then overdub more stuff on top of it. It was almost like the Bitch's Brew concept, where Miles Davis just recorded tons of stuff and edited it later.
I learned a lot about how you can write and improvise at the same time, and how to capture that initial spark when you first write something, which to me is jazz. Most of the music on those great jazz records is being reinterpreted on the spot. Advertisement
Also, this was when I was first discovering the hybrid between acoustic drums and electronics, where I was making loops and trying to fuse those two worlds together.
The Wallflowers Bringing Down the Horse (1996)
Making this record was more of a band situation," Chamberlain says. "I basically moved to L.A. for four or five months. We'd rehearse, and we played some gigs. T Bone Burnett produced the record. T Bone is great because he doesn't get in the way of what you're doing; he lets you do your thing. But he'll steer you in a way that makes what you're doing sound really good. And he'll suggest things to you, but not necessarily tangible, specific drum patterns. He'll say, 'This song needs to sound like the sky,' and stuff like that. He's like Yoda. He comes up with these things that take you out of your head when you're racking your brain about parts. He distills it down to the feeling of it. It should feel like this, or it should make you see that.
I learned a lot about grooving and different concepts. The bass player and I were sitting around listening to Tom Petty's album Wildflowers, and on the song 'You Don't Know How It Feels' we noticed that Steve Ferrone didn't play a single crash but that it works somehow. When we recorded 'One Headlight,' I was initially hitting crashes going into the choruses and at the usual spots. Then we did a couple takes where I applied Ferrone's concept and didn't hit a crash, and it worked because the groove just flowed from one section to another."
Fiona Apple Tidal (1996)
The guy who produced Fiona's first record, Andy Slater, was the manager of the Wallflowers, so he called me up. We got together with Jon Brion, who's basically a mad scientist. He plays everything, and he has a bunch of freaky old keyboards and guitars and tons of drums. Jon was a major influence on this record because he had so many sounds sitting around that I could just grab, like old Radio King drums with calfskin heads and a '60s Premier kit with metric-size heads. Advertisement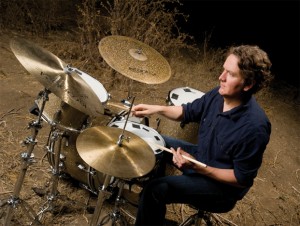 I had my DW kit there, and I thought we were going to try to rock out and make it sound like a PJ Harvey record. That failed miserably, so we had to search to create a sound for Fiona. It wasn't just playing drums like it was with the Wallflowers. It was about making her songs sound unique. We discovered that if you place a bullet mic—like the ones blues harmonica players use—in front of the drumkit and really muffle down the snare and compress the hell out of the signal, you get a great sound. That was the drum sound for the song 'Criminal.'
"When I heard that sound in my headphones, I realized that I couldn't play my cymbals too hard because they would take over the whole drumkit. I had to have that super-compressed sound in my headphones and play off that so I could be aware of how what I was doing was affecting the sound.
Tori Amos From the Choir Girl Hotel (1998)
This was the first record that Tori had done where she wanted to start with drums and her. Her first two records started with piano and vocal. For this one, she wanted to start off with just me, her, her husband, who was engineering, and Andy Gray, who's a synth/computer wizard. We set up different kits, so I had a normal five-piece drumset—at that time I was playing Ayotte. On the other side of the room, I had a Taos Native American kit with random pieces of percussion on it and a Roland V-Drums kit that I was running through guitar pedals and a guitar amp. Advertisement
On the song "Cruel," there's a loop of something I played on the Taos drumkit. Then I played tabla in different parts of the song and a marimba thing. For the song "Northern Lad," she wouldn't play it for me ahead of time, so I had to record it the first time I heard it. Tori is a very quirky artist, so I just went with whatever she was feeling or wanted to do. She's very into just getting things down immediately. She didn't want to sit around and tweak for too long.
I got called to do this record because the second Critters Buggin' album was produced by Eric Rosse, who also produced Tori's first two records. She had been talking to him about how she wanted to do this next record with a drummer, so he recommended me.
The biggest thing I learned from Tori is that if something feels good, it is good. Don't be too precious about it.
Fiona Apple When the Pawn… (1999)
Fiona had a hard time just sitting in the studio for days and days when we were making her first record, so she told the producer, Jon Brion, that she wanted to just record her piano and vocals to a click track and then let us go nuts. I must have had five or six drumkits setup in the studio. We had a little kid's kit, a normal Ludwig kit, my Taos kit, a super-dead kit, and we even had a kit in the control room. There were drums all over the place. This record was an experiment to see if we could have the sounds constantly changing, much like how a guitar player will change sounds from the verse to the chorus. There was even one song, "Limp," that had an instrumental bit and I jokingly said to Fiona that she should put a drum solo there, and she was like, "Yeah, let's put a drum solo on it!" [laughs] Advertisement
Macy Gray On How Life Is (1999)
I did this record on my days off from being on the road with Tori. They flew me in extremely early in the morning from wherever I was, and we would track a song or two. It was crazy-time!
The whole idea with this record was to try to get a modernized Al Green drum sound, so everything was detuned with tons of tape on it.
David Bowie Heathen (1999)
I'm a huge fan of Bowie, so I was blown away when his producer Tony Visconti asked me to do this record. We did it in upstate New York at this studio called Allaire. It was just Tony Visconti, David Bowie, and me in the middle of nowhere for two weeks.
At the time, David had just had a baby, so every morning he'd do family stuff and then write a song. We'd have lunch and then record drums all day until about seven or eight at night.
David is kind of like Tori, in that nothing is too precious and everything is permissible. You can try anything because if you don't—and you just do what he wants—then what's the point in having me there? He just let me go, and it was kind of mind-blowing. He would write a song and say, "Alright, what do you think"? And I would go, "Well, let me make a loop." Then he and Tony would disappear and I would sit in the studio by myself. At the time, I was using a cheap Boomerang pedal to make loops and the whole time I was thinking, They're letting me create the vibe of this song? This is a David Bowie record. Aaahhh!
Brad Mehldau Largo (2002)
This record was produced by Jon Brion, and he thought it would be a good idea to have Mehldau do a record where anything was permissible. He would do everything from putting stuff in the piano strings so they didn't resonate or run the piano through a Leslie cabinet with distortion. There was even one piano in the room that had nuts and bolts in it and was treated John Cage–style. On the Radiohead cover, "Paranoid Android," Jim Keltner played that piano while I played drumkit. There were a few pieces of music that Brad brought to the session, but the rest of it was improvised. I played double drums with Keltner and Brad's drummer at the time, Jorge Rossy, who's incredible. Advertisement
Playing with Keltner was like going to school. Talk about touch and feel… It felt like I was surfing on the back of a giant tsunami or something. I couldn't avoid getting sucked into his thing. It was like playing with a wizard. He was getting tones out his drums that were an octave lower than when I hit them.
Matt Chamberlain Matt Chamberlain (2005)
For my first solo record, I wanted to make an Asian/Western/sci-fi/horror movie soundtrack. I had been listening to a lot of Ennio Morricone recordings from the '60s and '70s, and this '70s band Goblin that did soundtracks. I love those records, so I tried to do my own version of that.
I brought in a string player who overdubbed parts together into an entire string section. He did arrangements on the spot over these synthy riffs and drum parts that I had written. Then my friend Tim Young did some Spagetti Western–style guitar here and there. But the whole thing started in Logic on my laptop. Advertisement
Brad Mehldau Highway Rider (2010)
This record had me and Jeff Ballard on drums. The way Brad wrote the pieces, our drum parts are complementary. There are some tracks where we played percussion together and there are some tracks where just he or I played drums. We tracked it live with a thirty-piece orchestra at Ocean Way Studios.
For some of pieces, the drums just come here and there, so you're sitting counting, "Fifty-one, fifty-two…," and then you come in at bar sixty-three. It was total old-school orchestral recording.
Of Montreal Thecontrollersphere (2011)
There's a track on this EP, "Black Lion Masacre," where we put some contact mics on the cymbals and ran the signal through a Marshall stack. It's the most insane explosion sound. Jon Brion, the producer, was standing at the drumkit and grabbing the cymbals after I hit them because if you let the cymbals ring it would turn into feedback. I wish I could use that sound on every record. It was so absurd, but it worked. Advertisement
I also ran my drums through guitar pedals on the song "Machine" on the Regina Spector album Far, which made the song really unique to me. I'm a big fan of mangling drums. If they sound really messed up, I'm happy. I'm not a purist. I think drums need to be treated like guitars. Guitarists can step on a pedal and be distorted. I want to do that, too.