Fred Eltringham of k.d. lang and the Dixie Chicks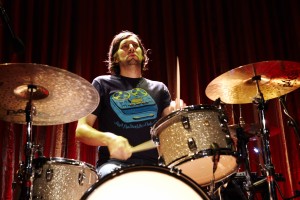 Hi from Nashville, Tennessee. I'm here to let you all know about some of the cool stuff that I've been up to. I want to start by saying I recently left the Wallflowers, who I played with since 2004. I had a good, long run with them, and now it's time for me to move on.
For most of 2011 I was on a world tour with k.d. lang and the Siss Boom Bang in support of our record Sing It Loud. Playing with k.d. and that band has been one of the most fulfilling musical experiences of my life. Check out the link below, and if you can, come see us play when we hit the road again in 2012. We'll be making another record in the meantime.
A couple other recent records I played on that are worth a listen are Pistol Annies' Hell On Heels, David Nail's The Sound of a Million Dreams, and Adam Hood's The Shape of Things.
I also play with the Dixie Chicks, so while they're planning their next move I'll be playing a few gigs and finishing up a record with Court Yard Hounds the group that features two thirds of the Chicks, Emily Robison and Martie Maguire. I'm also working on a record with a new kick-ass southern rock band I have with guitarists Audley Freed (ex-Black Crowes) and Peter Stroud (Sheryl Crow). We're called Big Hat. I think that the jam band fans are going love this one! And I just started a record with Kasey Musgraves, who I feel is going to make some major ripples in the country music world. Look for that one! Advertisement
Go to www.ludwig-drums.com, www.vater.com, www.paiste.com to check out the latest and greatest products from my friends. And for more on k.d. lang and the Siss Boom Bang, go to http://www.nonesuch.com/artists/the-siss-boom-bang.
Happy New Year!